The Super Bowl is over.  I'm happy for all you Giant fans (Robert) and sorry for you Patriot fans (Marla), but for me, I'm more into the commercials and reading other blogs to see what people make for Super Bowl food.  I usually find myself laughing at the commercials, but the one last night with Clint Eastwood put a big lump in my throat.  As the commercial begins, all one can hear is a voice, and Clint Eastwood's voice is unmistakable.  As it continued, it seemed more like a short movie for Sundance than a commercial.  I knew when he began to speak, it was going to be something with a message, as he does in his movies.  I can't begin to describe it, so watch it and prepare to be blown away.
As for the food, did you know that Super Bowl food is second only to Thanksgiving?  Needless to say, I think Americans enjoy their football.  But now it is the next day and many people are thinking- why did I eat all those hot chicken wings? Or they woke up to green skin from eating so much guacamole.  But never fear – a cookbook is here – even if it is from 1976.  Low calorie cooking was just as popular back then, and people did, and still do, want to lose weight in the New Year.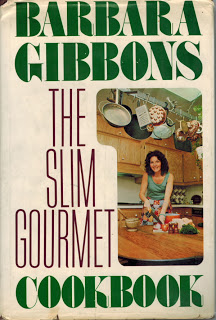 Author Barbara Gibbons did it the old-fashioned way.  She simply changed her eating habits by making small changes and lost almost 100 pounds.  It may have taken her almost two years to lose it, but does that really make any difference?  She did it and it changed her life.  As one always hears, slow and steady seems to be the best way to go for most people, and in the end, is usually more successful than losing those 100 pounds in six months.  When losing weight, you need to change your mindset and habits, along with cooking and eating healthier every day.  It's amazing how small changes add up, sometimes just by not drinking soft drinks, or not slathering your toast with butter and more butter. 
I think of Barbara Gibbons as the first "Cooking Light" enthusiast.  She penned a nationally syndicated column by the same name as her book, and also a column in Family Circle magazine called "Creative Low-Calorie Cooking." People were clamoring for her cookbook while it was being written.  The demand was so great, that she had to send out form letters saying that the book was not yet published.  Barbara went on to write many more low calorie books, all with great recipes.  You can find her books easily on Amazon.  I have never seen any of her books at book sales, as I do other low calorie cookbooks, which usually means people keep them because the recipes are good. 
Now is around the time that many people give up on their New Year's resolution to lose weight, and may feel especially bad about eating too much for the Super Bowl, or are looking ahead to enjoying chocolate on Valentine's Day.  But like Barbara would probably advise, just don't eat the whole box of chocolates – just have one or two and savor each bite.  You can walk it off.  Just start with baby steps and your efforts can add up.  After all, it's only "half-time," and there's plenty of time in the rest of the year to eat well, be healthier, and feel good about your efforts.