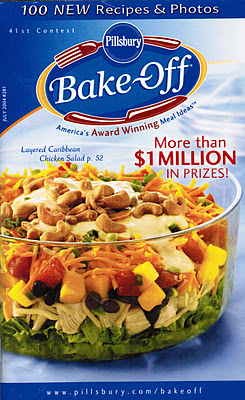 Good thing Suzanne Conrad doesn't make a good apple pie, because that's how the million dollar "Oats 'n Honey Granola Pie" was born.  Suzanne, a children's librarian from Findley, Ohio, describes her apple pie as "terrible," and "always a disaster."  It took only a week to perfect her Bake-Off winner.  Suzanne's husband, Mike, an emergency medical services pilot, took her experiments to work until, she says, "We just couldn't eat another piece."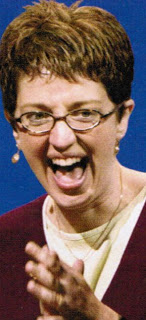 This talented mother of two entered her pie in the "Weekends Made Special" category.  The pie has a pecan pie-like filling using walnuts in place of pecans, chocolate chips, rolled oats, and Nature Valley Oats 'n Honey granola bars, crushed in the wrappers before using, all baked inside a Pillsbury refrigerated pie crust.  Suzanne's 90-year-old grandmother, Dora Sullivan, encouraged her to use the refrigerated crust.  Her beloved "Nana" could no longer make crust from scratch due to her arthritis.  Suzanne knew she had a winner when Nana, who taught her to cook, asked for the recipe for "the first time ever."  The pie is not as sweet as Southern pecan pie, but the judges liked that, and called the pie "A fully realized recipe- just sweet enough."
When asked how she would spend her $1 million, Suzanne said she would like to replace her purple-pinkish formica counter tops, put money into her children's college funds,  pay off loans for her master's degree in Library Science, and also expressed her dream of a little cottage in Cape Cod.  Dreams do come true.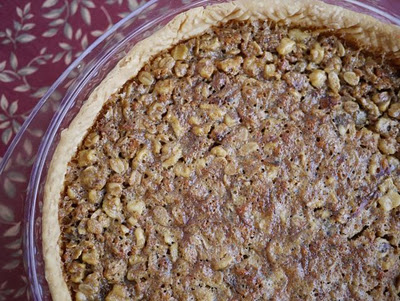 After Suzanne won, her mom said, "I can't believe they gave you a million dollars for a pie!"  Suzanne didn't believe it either.  "I still don't," she says.  "I keep saying that I still have to pinch myself.  I really didn't think that I would win."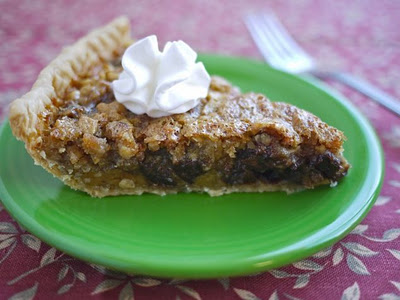 You can certainly see why Suzanne won.  What a gorgeous pie!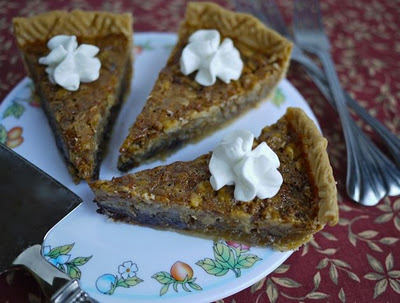 After the contest, Suzanne appeared on "The Oprah Winfrey Show," where Oprah helped Suzanne make the pie, but didn't taste it because she had given up sugar, but instead Oprah picked it up and inhaled it!  Suzanne said when she was on the Today Show, "Matt Lauer ate some pie, but Katie Couric just pretended to," because she didn't eat sugar, either.  I think they missed out, don't you?!
For the first time in Bake-Off contest history, a famous designer created the official apron.  Internationally renowned, and award-winning "Target" designer Issac Mizrahi came up with this contemporary apron.  What a thrill that must have been for all of the lucky contestants.
One of those lucky contestants was Shirley DeSantis, here for her third and final time with her delicious recipe, "Blueberry-Pistachio Biscuits for Two."  Shirley's first contest was decades ago, and she and other family members kept up the tradition of being a Bake-Off family.  Shirley remembers Art Linkletter who was the host of her contest #20, and he was at this Bake-Off, too, as a special guest.  Art was a Bake-Off host for many years, and loved by many. 
Another contestant, Angela Buchanan from Boulder, Colorado was here for her first Bake-Off experience and the first contest she ever entered, but went on to enter and win many other cooking contests, and also writes a lovely food blog: 
http://www.seasonalandsavory.com/
 .  Here are some of Angela's memories of her first Bake-Off:
The 2004 Pillsbury Bake Off was the first recipe contest I had ever entered.

I sent in five recipes and was shocked when I got the call that I was going to Hollywood for the event.

My husband, Harrison, went with me and it was seriously about the most fun we have ever had.

We loved the live music event at the Highland's Nightclub, with food provided by Wolfgang Puck's Hollywood and Highland's restaurant and celebrity impersonator walking around for photo ops. The beautiful welcome dinner with the other finalists was another highlight.

During that trip I met several "contesters" who drew me in to the wonderful world of food contests and introduced me to Cooking Contest Central, and I have never looked back!
A funny memory: all of the finalists won an Advantium microwave oven that year, and at the time we were renting a small apartment in Boulder and could not have it installed.

I kept it in storage and in 2006 I won my category at the Bake Off, which included a new GE range, and when the delivery guys came to install the range in our newly-purchased house, they were the same two who had delivered the microwave, two years prior!

They installed the microwave for free.
Mary Shivers of Ada, Oklahoma, was another first-time Bake-Off contestant, and she has also won many other cooking contests.  Mary is going to be a contestant in the upcoming Bake-Off next month, where I am looking forward to meeting her!  Here are Mary's memories of her first Bake-Off:
My first Pillsbury Bake-Off was in 2004 in Hollywood. Wow! What a terrific trip Phil and I had! My wraps were very easy to make so at first I wasn't nervous about messing them up –until I got into that HUGE "kitchen" full of ranges and very creative cooks! Some of the highlights were visiting with Dick Clark and the Doughboy at my range and later riding in the elevator with Mr. and Mrs. Pillsbury. Very sweet!   The cooking experience itself was tremendous and I learned so much; that was my biggest lesson about adding a garnish. I didn't submit my recipe with one so, of course, I couldn't add one. Disappointing because my dish was white and the wraps were in flour tortillas. Not a very pretty presentation! Lol! Since that time, I ALWAYS add a garnish of some sort.
The best thing about the trip was the lifelong friends we made and the memories we will always treasure. We are looking forward to my second PBO in March and are excited about the new friends we will make and the old ones we will get to see again. The PBO experience is like no other. If you haven't had the pleasure, KEEP TRYING!!!! Both years that I have been selected I submitted between 30-40 recipes!!!
On a personal note, I have to mention a recipe from this contest that my girls made over and over and over.  It quickly became their favorite after school snack.  They couldn't get enough of the "Creme Caramel Chai Smoothie," from Pam Ivbuls of Omaha, Nebraska.  I should have bought stock in Yoplait, as each recipe used two containers of their Custard-Style Lowfat Creme Caramel Yogurt!
To find the recipe for "Oats 'n Honey Granola Pie" go to: http://goo.gl/Jlnpp
Photos of "Oats 'n Honey Granola Pie" are by my daughter, Kristina Vanni. Visit her blog at: http://www.betterrecipes.com/blogs/daily-dish
To read all my previous Bake-Off blogs:
Bake-Off #1: http://su.pr/7gmylO
Bake-Off #2: http://su.pr/2zgjZn
Bake-Off #3: http://su.pr/7VZzZS
Bake-Off #4: http://su.pr/292acQ
Bake-Off #5: http://su.pr/2yOSvP
Bake-Off #6: http://su.pr/28VYBh
Bake-Off #7: http://su.pr/1hk3nb
Bake-Off #8: http://su.pr/22JMGd
Bake-Off #9: http://su.pr/2KkA2E
Bake-Off #10: http://su.pr/8awD1k
Bake-Off #11: http://su.pr/1CmPvD
Bake-Off #12: http://su.pr/3ogo5M
Bake-Off #13: http://su.pr/1a4HYQ
Bake-Off #14: http://su.pr/3tgiV5
Bake-Off #15: http://su.pr/7tQXBu
Bake-Off #16: http://su.pr/9nPW7c
Bake-Off #17: http://su.pr/9WIaqm
Bake-Off #18: http://su.pr/6MMS45
Bake-Off #19: http://su.pr/2A7GXI
Bake-Off #20: http://su.pr/2MwjlD
Bake-Off #21: http://su.pr/1nIgIJ
Bake-Off #22: http://su.pr/1nkUgJ
Bake-Off #23 http://su.pr/20jQDK
Bake-Off #24 http://su.pr/AMfFSj
Bake-Off #25 http://su.pr/4btzLZ
Bake-Off #26 http://su.pr/2sJrvp
Bake-Off #27 http://su.pr/9cG4B1
Bake-Off #28 http://su.pr/24CMm0
Bake-Off #29 http://su.pr/8th5eg
Bake-Off #30 http://su.pr/AUUGkZ
Bake-Off #31 http://su.pr/9j9TQ6
Bake-Off #32 http://su.pr/76Fl0s
Bake-Off #33 http://su.pr/26Q4KJ
Bake-Off #34 (part 1) http://su.pr/3TlcVI
                      (part 2) http://su.pr/7suCub
Bake-Off #35 http://su.pr/1lZC8X
Bake-Off #36 http://su.pr/1Ogl7Q
Bake-Off #37 http://goo.gl/39Fh0
Bake-Off #38 http://goo.gl/5xrPz
Bake-Off #39 http://goo.gl/ca52t
Bake-Off #40 http://goo.gl/Kj0NQ