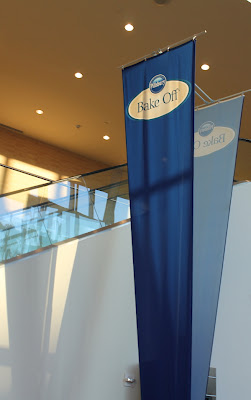 Even though the 45th Bake-Off is now over, and after writing my Bake-Off blogs for the last year, I  am still in a Pillsbury mindset.  What am I going to do now without my Bake-Off Wednesdays to write about?  It was my favorite day of the week and I will miss it. 
If you are one of my loyal readers, you also know that I am renovating my culinary cellar.  It's going to take longer than I imagined since I have so many cookbooks and other items, and I keep coming up with new ideas along the way.  It's going to take time, so I am thinking about writing my blogs only on Mondays, Wednesdays, and Fridays for a while.  I'll need some extra days during the week to finish the library.
In the meantime, while I ponder what to do,  I thought you other Bake-Off fanatics would like to see some trivia.  Here is a list of the states where grand prize winners lived at the time of their wins. 
California- 7 winners
Minnesota- 6 winners
3 Winners from each of these states:
– Florida
-Illinois
-Indiana
-Texas
2 Winners from each of these states:
-Colorado
-Louisiana
-Maryland
-Ohio
-Pennsylvania
-South Carolina
-Tennessee
-Washington
1 Winner from each of these states:
-Arizona
-Connecticut
-Michigan
-Nebraska
-Nevada
-New Jersey
-North Carolina
-Oregon
-Washington, DC
-Wisconsin
Fifty of the winners were women (one was a teenager!) … and one man.
I also did an informal poll with some the the contestants this year and learned the following:
-When asked which past Bake-Off winner (it didn't have to be the grand prize winner) was their favorite, the answer given most was the "Tunnel-of-Fudge Cake" followed by the "Peanut Butter Blossoms."  Neither of these were grand prize winners.
-When asked which recipe they wish they had invented, again it was the "Tunnel-of-Fudge Cake" followed closely by the "Magic Marshmallow Crescent Puffs."
-As for which Pillsbury product was their all time favorite, the big winner was the crescent rolls.  One person even answered, "Crescent roll dough.  Hands down.  You can wrap road kill or old shoes in it and have a completely acceptable meal!" 
As for advice to give future hopefuls, almost everyone said to follow the rules and never give up!  So take a look at that list above and your state is not there, why don't you be the first from your state to win.  Get busy!  It could be you with the next million dollars!