This Bake-Off blog will be my last for two years until the next contest!  I have loved writing about every single contest winner and recipe, and I am all caught up to date.  There are now officially fifty-one grand prize winners in the Pillsbury Bake-Off.  My daughter Kristina and I will miss talking about it, preparing the recipes, and Kristina will miss taking the photos of American culinary history.  But we know in two years it will happen all over again – the anticipation and joy will soon return like a long lost friend.
You know when something good happens to someone, and people will say, "It couldn't have happened to a nicer person," completely applies to this contest.  Anyone who knows the newest million dollar winner Christina (Tina) Verrelli of Devon, Pennsylvania, especially knows this to be true.  Tina has one of those personalities that light up a room, and you want to stand next to her and feel the flow of her positive energy.  Kristina and I first met Tina at the 44th contest.  Tina and her husband have two darling little girls, who caught our eye last time because they reminded me of when I first came to the Bake-Off with my own two little girls about the same ages at the time.  We felt a connection with Tina right away, and were so happy to hear when she would be returning to this 45th contest.
We did not see the contestants all in a group until they lined up for the "Grand March" into the cooking area.  We heard one contestant say she could now go home happy simply by being in the traditional march.  The Bake-Off room is very quiet until the march begins.
Lining up for the Grand March!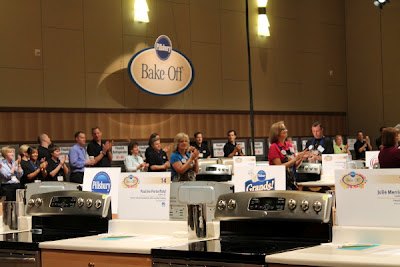 Contestants march in and go to their ovens.
As media, Kristina and I were allowed onto the Bake-Off floor twenty minutes after the contest began.  In those first few minutes, contestants can be alone in their thoughts, get mentally prepared, and begin cooking without interruption.  After those twenty minutes are up, it's a free for all.  The media descends upon the 100 cooks, asking questions and taking photos.  This year was especially exciting, as the host was Martha Stewart!  Martha strolled down each aisle of ovens, chatting and tasting, and even taking photos of the contestants with her own camera.
As Martha was walking the floor, Tina was busy working on her winning recipe.  I first walked by Tina's station as she was cooking, but she looked busy so I didn't talk to her right away.  I came by a couple more times and there was a sample of her delicious pumpkin raviolis.
I checked on some other contestants during the cooking time period, including my friend Brett who was interviewed by Martha.
Linda Bibbo, a third time contestant, making her delicious "Almond Macaroon Coffee Cake"
Mary Shivers garnishing her "Almond-Chicken Crescent Crostini"
Teri Ralston at her cooking station where she will make her "Great Start Breakfast Cookies"
Naylet LaRochelle stirring her "Sloppy Joe Gorditas"
Nadine Clark making her "Thai Chicken Subs"
Julie Beckwith getting ready to make her "Chicken Italiano Sliders"
Meet the contestant who came the furthest- Lenore Klass from Hawaii making her "Orange Cream-Chocolate Tarts"
I got to taste these delicious "Vanilla Malt-Toffee Triangles with Sea Salt"
Three happy contestants!
Three ladies waiting for their timers – or are they tired?  Either way, they all look happy!
Contestant Jane Michel had a special cheering section as she cooked her "Biscuit Corn Cakes with Goat Cheese and Blackberry-Thyme Sauce."  Her daughter, Lindsay, and grandson Caspian, enchanted the watching crowd with Caspian's "Doughboy" chef's hat:
What a cutie pie!
Doughboy meets Doughboy!
The cooking deadline was noon.  After everyone was done, the contestants either went back to their rooms for a rest after a hectic morning, or went out into Disney World for some more fun.  The last event was a rockin' and rollin' party complete with live music and great food.  When the music got so loud that we had to text each other because we couldn't talk, some of us decided to go out into the lobby to chat.  Talking with old and new friends is one of the best parts of the Bake-Off.  However, the next morning was the big announcement, and we all headed off to bed to be ready to go at 6:30 am.  At breakfast the next morning, we sat with a woman who had someone make her a wood-carved Doughboy for good luck, which she set out on the table.
After a warm-up from Martha Stewart's sidekick on her show, Joey Kola, we all proceeded to the newly constructed studio of Martha's television show on the Hallmark Channel.  It was the first time one of her shows was filmed outside of the New York studio.  It was a stunning set.  Check out the utensil chandelier.  The photo doesn't do it justice – it was huge and very impressive!
The excitement in the air was palpable.  Joey Kola once again entertained us and had us all in stitches.  Finally the show was about to begin.  Martha first named the winners of the special awards during commercial breaks, and on the air she rotated the winners of the categories.  Here are the winners of the special categories, who each won $5,000:
"Salmon Crescent Sushi Rolls" from Julie McIntire of Independence, Missouri
"Indonesian Chicken Turnovers with Spicy Peanut Sauce" from Linda Blakely of Berne, New York
"Chewy Peanut Butter-Caramel Bars" from Sandra Hilbert of Fort Littleton, Pennsylvania
"Orange Cream Macadamia Torte" from my friend Brett Youmans of Reading, Pennsylvania
It was then time for the category winners.  Each category winner also won $5,000 but this time had a chance for the million dollars, so you can imagine the excitement.  Before Martha read each winner, you could have heard a pin drop!
Martha with all the category winners:
The four category winners stood off to the side as Martha read the winning dish and lifted off the dome of the prepared dish.  Kristina and I jumped up out of our seats and screamed when it was revealed that Tina was the million dollar winner. We had tears in our eyes as we watched Tina's face, and the faces of her precious family as they joined her on stage.
After the telecast, Tina and Martha went to the press room where the media could take photos and ask questions.
There was a big table with samples of Tina's winning dish!
Tina with one of the sponsor products!
It's Christina and Kristina!
I have been dreading getting to the end of this blog, because now I begin the two-year wait for the next contest.  I hope the blogs have brought back good memories for those who have been, and for those reading this who have never entered – what are you waiting for?!  Get those creative juices flowing and start cooking.  You may just be the next million dollar winner.
To find the recipe for "Pumpkin Ravioli with Salted Caramel Whipped Cream" go to
http://goo.gl/uJ2hA
Contest photos are by my daughter, Kristina Vanni. Visit her blog at: http://www.betterrecipes.com/blogs/daily-dish
To read all my previous Bake-Off blogs:
Bake-Off #1: http://su.pr/7gmylO
Bake-Off #2: http://su.pr/2zgjZn
Bake-Off #3: http://su.pr/7VZzZS
Bake-Off #4: http://su.pr/292acQ
Bake-Off #5: http://su.pr/2yOSvP
Bake-Off #6: http://su.pr/28VYBh
Bake-Off #7: http://su.pr/1hk3nb
Bake-Off #8: http://su.pr/22JMGd
Bake-Off #9: http://su.pr/2KkA2E
Bake-Off #10: http://su.pr/8awD1k
Bake-Off #11: http://su.pr/1CmPvD
Bake-Off #12: http://su.pr/3ogo5M
Bake-Off #13: http://su.pr/1a4HYQ
Bake-Off #14: http://su.pr/3tgiV5
Bake-Off #15: http://su.pr/7tQXBu
Bake-Off #16: http://su.pr/9nPW7c
Bake-Off #17: http://su.pr/9WIaqm
Bake-Off #18: http://su.pr/6MMS45
Bake-Off #19: http://su.pr/2A7GIX
Bake-Off #20: http://su.pr/2MwjlD
Bake-Off #21: http://su.pr/1nIgIJ
Bake-Off #22: http://su.pr/1nkUgJ
Bake-Off #23 http://su.pr/20jQDK
Bake-Off #24 http://su.pr/AMfFSj
Bake-Off #25 http://su.pr/4btzLZ
Bake-Off #26 http://su.pr/2sJrvp
Bake-Off #27 http://su.pr/9cG4B1
Bake-Off #28 http://su.pr/24CMm0
Bake-Off #29 http://su.pr/8th5eg
Bake-Off #30 http://su.pr/AUUGkZ
Bake-Off #31 http://su.pr/9j9TQ6
Bake-Off #32 http://su.pr/76Fl0s
Bake-Off #33 http://su.pr/26Q4KJ
Bake-Off #34 (part 1) http://su.pr/3TlcV
Bake-Off #34 (part 2) http://su.pr/7suCub
Bake-Off #35 http://su.pr/1lZC8X
Bake-Off #36 http://su.pr/1Ogl7Q
Bake-Off #37 http://goo.gl/39Fh0
Bake-Off #38 http://goo.gl/5xrPz
Bake-Off #39 http://goo.gl/ca52t
Bake-Off #40 http://goo.gl/Kj0NQ
Bake-Off #41 http://goo.gl/SlRCz
Bake-Off #42 http://goo.gl/cw1Rs
Bake-Off #43 http://goo.gl/PMLlz
Bake-Off #44 (part 1) http://goo.gl/QDDwK
Bake-Off #44 (part 2) http://goo.gl/yhncc