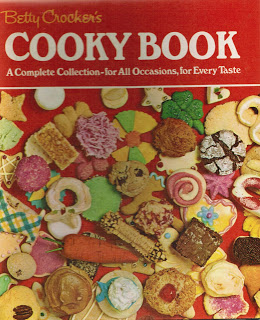 I requested this cookbook for Christmas when I was in junior high school and have loved it ever since.  How can you not love a cookbook filled with classic recipes, and that includes a cookie called a "Ting-a-Ling" along with cookies for salt-restricted, bland, and low-fat diets?  Betty thinks of everything.  I still remember the first recipe I ever tried from this book was the "Green Peppermint Meltaway Cookies," aptly named because they literally melt in your mouth when you bite into them.  Of course, why not with all that butter!? 
I love everything about this book, including the photos.  There are pages of photos with many kinds of cookies on display on a large table, as if you were getting ready for a holiday cookie exchange.  Nothing is prettier on a Christmas table than dozens upon dozens of colorful cookies of every flavor and type.  I mean, look at that cover! 
My favorite section is probably "Betty's Best Cookies," with a photo of about a dozen different cookies, and each labeled as the best of various decades in time.  The best cookie of 1880-1890 was the "Hermit" cookie, filled with raisins and nuts.  The best of 1890-1900 was the "Cinnamon Jumble" which sounds like snickerdoodles.  "Oatmeal Drop" came along in 1900-1910; "Ginger Creams in 1910-1920; the ever-popular "Brownie" in 1920-1930; and "Molasses Crinkles" in 1930-1935 (I still make these).  From 1935-1940 it was all about the chocolate chip cookie whose popularity swept the nation like wildfire.  Refrigerator cookies were popular in the 1940-1945 years, especially the caramel refrigerator.  Refrigerator cookies like these were popular because the dough could be mixed one day, sliced and baked the next.  It was the war efforts of women taking their places in the production lines that meant "home tasks had to be speeded up," which included cookie baking.  The post war boom brought sugary fruit drops which were welcomed because sugar was rationed during the war. From 1950-1955, "Salted Peanut Crisps"  pleased the younger set.  Cookies became fancy with the introduction of "Bonbon Cookies" in 1955-1960.  Easy jet travel from 1960-1970 made it possible for people to eat foods from other countries, and "French Lace Cookies" became the rage. 
You will find every kind of drop, bar, refrigerator, rolled, pressed, and molded cookie, along with ideas for holidays, lunchbox cookies, cookies for a crowd, cookies for special diets, and cookies that travel well.  Whatever you choose, remember Betty's motto:  "Happy the home with the full cookie jar."