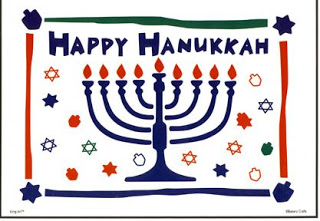 I asked my fellow blogger,  the delightful "Yenta Mary" from her
foodfloozie
site for a Hanukkah recipe.  At first she was going to send me a latke recipe, then decided this one would be more fun for a munchie to have on Hanukkah.  It's a snack mix that Mary says is "absolutely addictive." Mary also said I should check out the amazing Jewish cookbooks from
Joan Nathan
.  Her latest book is
Quiches, Kugels, and Couscous:  My Search for Jewish Cooking in France. 
Some of her other bestsellers include
The Jewish Holiday Cookbook, The Foods of Israel Today, The Children's Jewish Holiday Kitchen, The Jewish Holiday Baker, and Jewish Cooking in America.
Mary's Indian Snack Mix
3 cups Rice Krispies
2 cups chow mein noodles
1 cup honey roasted peanuts
1 cup golden raisins
1/2 cup vermicelli (very thin, small pieces of pasta)
1/2 cup oil
1 teaspoon hot curry powder
1 teaspoon garam masala
1/4 teaspoon seasoned salt
1/4 teaspoon Cajun seasoning
1.  Heat oven to 400 degrees.
2.  In a large mixing bowl, combine Rice Krispies, chow mein noodles, peanuts, raisins, and vermicelli.
3.  In a small skillet, heat the oil and all of the spices, swirling the pan to combine everything, for one minute. 
4.  Pour spice mixture over the cereal mixture and stir to mix well.  Spoon mixture onto a rimmed baking sheet and bake for 10 minutes.  Let cool.
Thank you, Mary!  Have a Happy Hanukkah!