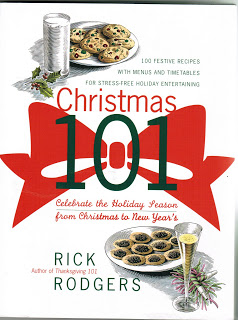 Remember last month's blog of Thanksgiving 101?  Now we have Christmas 101 from the same author, Rick Rodgers.  Once again, he takes us by the hand to help with Christmas entertaining during this hectic month.  Whether you are a novice preparing your first holiday dinner or an experienced cook seeking new ideas, you will find everything you need to know in this book.  Thanksgiving is only one day, but Christmas is a whole season.  There are enough recipes to last the entire month and into planning a New Year's Eve party. 
Baking in our house around the holidays includes lots of  breads and cookies, both for gift-giving and our personal favorites to enjoy.  We have a tradition of a special maple coffee cake for Christmas morning.  When my grandmother lived with us many years ago, she loved having stollen.  There is a great recipe for stollen in this cookbook, along with the festive panettone and kugelhopf, but also a couple hearty ones like salami and cheese-stuffed bread, and a prosciutto-rosemary pepper bread. 
No matter what you are baking or planning, list-making is a necessity according to the author.  Every time you mark a chore off the list, you get a sense of accomplishment and can move on to whatever is next.  I can't imagine planning the month of December without extensive lists.  There is just too much to remember!  One item that can be done early and marked off the list is decorating.  For things like centerpieces, it's amazing what can be done with poinsettias, holly, mistletoe, evergreen branches, and pine cones.  Even red and green apples in a bowl with some ribbon can look festive.  The book is full of inexpensive and creative ideas for creating a holiday atmosphere. 
The cookie chapter is amazing. There is everything from a basic sugar cookie to pine nut amaretti, lebkuchen, Polish bowknots, Greek snowballs, and Moravian spice wafers. Of all the Christmas edibles, people always seem drawn to cookies.  My girls loved to help with the cookie baking when they were very young.  I remember once when my daughter Kristina was about 3 years old and wanted to help make sugar cookies.   As we were gathering up ingredients and utensils, she was looking everywhere for something.  I asked her what she was trying to find, and she said the "dough mower," meaning the rolling pin! 
Remember to make your list and check it twice, but include this great cookbook in your planning.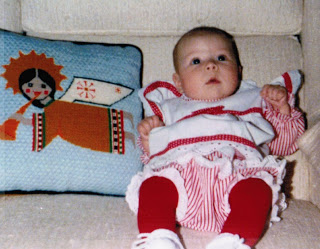 Kristina's 1st Christmas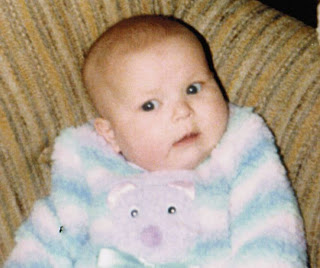 Kara's 1st Christmas
My little sweethearts!  All grown up now.