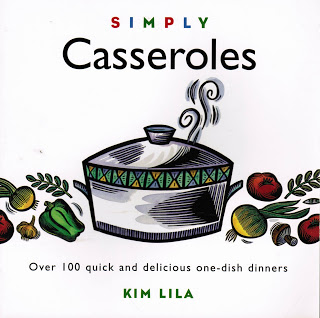 After the rush of activities with Thanksgiving and maybe some holiday shopping, it's time for some easy dinners that are NOT turkey!  After several days of nothing but turkey leftovers, your family may be requesting something different, and hopefully something easy for you.  Most of the recipes in this book only take about 20 minutes or less to put together.  There is even a chapter called "Fast Fixes" with casseroles all ready for the oven in about 10 minutes.  Most of the recipes can also be refrigerated or frozen until ready to bake.  All recipes also include nutritional data.
According to the Food Marketing Institute, at 5pm when people are heading home from work, or thinking about what to serve for dinner, 70% have no idea what they are going to make.  This is where the casserole comes in.  There are over 100 dishes from which to choose in the cookbook, including ethnic favorites, noodle and grain dishes, side dishes, brunch, and desserts, along with classic casseroles such as enchiladas, pot pies, Shepherd's pie, lasagne, mac and cheese, pot roast, and tamale pie.  The Denver omelette casserole sounds great, as does the interesting shish kabob casserole.  For the most part, the book is very family friendly with so many dishes sounding like what kids would love to have for dinner.
With Christmas and other festivities starting this week, it's going to be a very busy month for everyone.  Think about making some casseroles and putting them in the freezer, ready to be pulled out on one of those nights where you just don't want to cook.  And no more turkey for awhile!