My daughter Kristina and I are off on a cruise tomorrow aboard the ship "Celebrity Reflection," from the amazing Celebrity Cruise line, the same one that sent us on our cruise to Alaska six months ago.  The ship is making its inaugural debut this weekend.  We're so excited!  Since I have no photos yet, I will just include this link so you can see the ship.  Isn't it gorgeous?  And check out some of those dining rooms!  I'll try to post some photos while aboard ship over the weekend.  Here is what our stateroom looks like.  We have a big balcony again, just like in Alaska.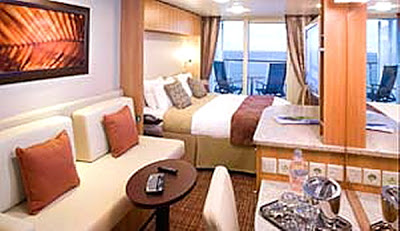 We don't have the full schedule of events yet, but we do know that on Sunday morning there will be a "Culinary Thought Leadership Panel," consisting of Director of Culinary Operations, Chef John Suley, who we met on the Alaskan cruise; Jeff McInnis, head chef at Yardbird; Yvon Ros, from the James Beard Foundation; Scott Hocker, Editor-in-Chief of Tasting Table; and Jacqueline Sainsbury, Managing Editor of Food Arts.  They will be discussing culinary themes and trends on both land and sea. 
I think it will be a relaxing weekend filled with fabulous food and endless fun!  I can't wait to tell you about it!  Bon Voyage!!