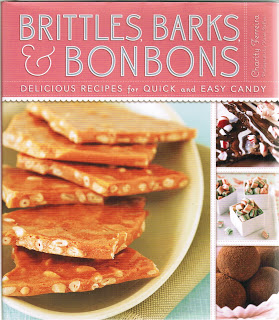 My grandmother may have had a hand in developing my sweet tooth.  When I was young, my grandmother lived with us.  My grandfather was in a nursing home, paralyzed from the waist down since the age of fifty from a very rare disease.  With the constant cost of his medical care, my grandmother went to work.  She sold furniture at a John M. Smythe store at Oakbrook Mall near Chicago.  Next door to Smythe's was a Fanny May candy store.  Since Gram had a sweet tooth herself, she couldn't resist going into the store several times a week, and bring home some sweet treats for my little brother, Ken and me.  Gram took the bus to work, and we always knew when she would be returning home.  Ken and I would sit watching out the living room window, waiting to see Gram come around the corner and hope to see a small bag in her hand from Fanny May.  She never bought a lot, just a piece or two, but those small bites were heavenly, and really all that was needed.  If she had brought more than just a few pieces, then the mystery and fun would have been gone, and we would only have had stomach aches from overindulgence. My favorites were the peppermint bark, mint meltaways, and anything with chocolate and coconut.  I adored the ribbon candy, but never ate it.  I just liked to look at its colorful swirls, or use it to decorate a gingerbread house.
Seeing the cover of this cookbook took me back to those childhood days of Gram and Fanny May.  Candy is a unique and personal gift.  Who can reist individual buttery caramels wrapped in little pieces waxed paper and twisted on the ends?  Or some bark or brittle in a clear bag tied with ribbon; or some decadent fudge or a truffle in little paper cups. The cookbook will take you every step of the way to make your own special treats, with step-by-step instructions on technique, and what equipment and ingredients to buy for successful candy-making.  You will learn how to make brittles, toffees, barks, clusters, truffles, dipped candies, bonbons, and other sweetmeats. If someone hands you homemade candy for a gift this holiday season, you know you must be someone special.  A lot of love goes into candy-making.
What I wouldn't give to see Gram come around that corner one more time with the little bag in her hand.  Candy may not be good for the teeth or the waistline, but it's certainly good for the soul.