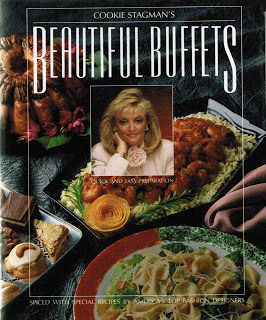 I discover cookbooks in the strangest of ways.  Had I not been a finalist in a spaghetti sauce contest, I may never have met Cookie Stagman.  Cookie's husband was a judge in the cooking contest, which is how I heard about her cookbook.  It has Cookie's favorite recipes for buffet and party ideas, along with recipes from famous fashion designers like Bob Mackie, Carolina Herrera, Bill Blass, Oscar De La Renta, Donna Karan, and many more.  Cookie was a former buyer from Bloomingdale's and very involved in the fashion merchandising world.  She and her husband Barry decided to form their own company in the wholesale end of the industry.  This meant that entertaining clients was of the utmost importance.  Cookie did not want to put out the usual deli-trays or order in food; she decided to cook everything herself.  From her very first luncheon offering, which was just simple salads and desserts, their showroom always had lines of clients waiting outside the door.  Cookie made each menu even more elaborate as time went on.  Not long after the first lunch, people started asking for her recipes, which led to the cookbook idea.  Many of the recipes are for desserts, which is due to the fact that their showroom had no facility for heating foods.   
The first chapter is titled, what else, "Cookie's Cookies," with everything from her best chocolate chip to her Grandma Esther's rugalah, followed by another chapter of just brownies and bar cookies.  There are also salads, breakfast items, cakes, pies, and even a section of jello ideas.  I think Cookie and Barry's clients were very well fed.  But how did they fit into all the designer digs after some of Cookie's famous cookies!?
By the way, don't you love people with food names like Cookie?  My mother had a cooking teacher named Mrs. Pancake, and one time, I met a film actor named Mr. Popcorn.  No kidding.