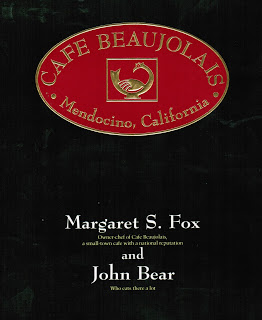 Cafe Beaujolais in Mendocino, California is legendary.   It was a popular local hangout, but also the kind of place where people would drive for hours to reach and enjoy the incredible food.  Author of this cookbook, and owner of Cafe Beaujolais, Margaret Fox explains in the first few pages why this is not just a cookbook.  Of the 256 pages in this book, 132 are devoted to specific recipes and 124 are not.  She says that is why the book is called "Cafe Beaujolais" and not the "Cafe Beaujolais Cookbook."  But that's what is so wonderful about it.  It's all about food and the restaurant business, how to start one yourself, and about the fascinating little coastal town of Mendocino.  It is not only one of the most interesting and informative cookbooks to read, but if you love to cook, you must find this book because the recipes are comforting, or as Margaret says, "immensely satisfying."
The cookbook has recipes for soups, salads, entrees, vegetables, breads, but is very heavy on breakfasts and desserts, because that is simply the way things were at the restaurant and for its owner.  Cafe Beaujolais was the type of place where locals came in their work clothes for an omelette and an espresso before work, and also where people drove hours to enjoy the best place in the world for Sunday brunch.  Who wouldn't want to come for breakfast or brunch when you could have just about any kind of omelette or crepe, a cheese-and-wine bread, and all kinds of pancakes, waffles, and muffins.  I don't even know where to start on the dessert offerings.  If you love baking, then you really can't miss this book.  There are about 50 dessert recipes that you will want to make the minute you read them, like the Amazon Chocolate Cake with Chocolate Creme Fraiche Frosting.   One recipe that I have made over and over is the Spicy Buttermilk Coffee Cake.  It is completely addictive.  It's old-fashioned and wholesome.  It's simply amazing.  Buy the book just for this recipe.  There is also a very funny story about the famous coffee cake.  It seems the only time the restaurant had a break-in, all the thief stole was the coffee cake!  He came in through the tiny bathroom window and left crumbs all over the roof!  Now you have to try it, right?
It makes me sad that I never visited Cafe Beaujolais, but at least I have the recipes.  When Julia Child visited, she ordered the Black Bean Chili.  After Julia left, everyone wanted to know what she ate, and for the next six weeks, that's just about all anyone ordered.   Margaret Fox owned the restaurant for 23 years, serving her happy and satisfied locals, along with many other celebrities.  After selling the restaurant in 2000, Margaret began a coaching and business consulting career, and also became the culinary director for "Harvest Market" in Fort Bragg.  From what I can find, it appears she still lives in Mendocino.  In the book, Margaret quotes a description of Mendocino from a tourist, which she said summed up why she loved having her restaurant there- "You know, this is one of the very few places in the world where the locals and the tourists seem to do the same things for pleasure."  Good scenery, good conversation, and good food.  What more could you want?  Well, maybe another piece of that coffee cake!