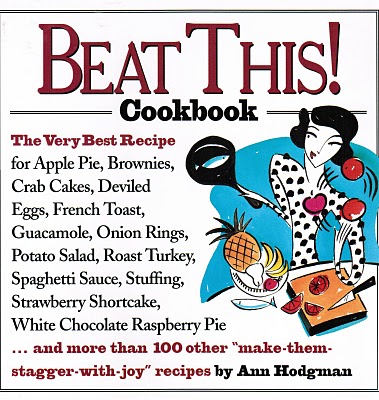 Do you make a chocolate chip cookie that could outshine Mrs. Field?  Would your pasta sauce make Mario Batali shake in his crocs?  According to author Ann Hodgman of "Beat This!" the answer is, in your dreams, because no one, and she means no one, can beat her recipes in this cookbook.  Consider yourself challenged.  Ann claims her finished products make people take a bite, stagger with joy, and tearfully beg for the recipe.  She says not to even bother trying to beat her chocolate chip cookies.  Well, now!  I beg to differ.  I am ready for a throwdown on this one, because I think my chocolate chip cookies can't be beat.  Let's take it out back, Ann! 
Putting the cookie issue aside, this is one fun cookbook.  I haven't made everything and compared it to mine, my mother's, or my grandmother's, but Ann's recipes sound pretty darn good, and I plan on making some comparisons through the course of the next few months.  I will try her killer mashed potatoes at Thanksgiving, and the perfect roast chicken (can she actually beat Julia's?)  I wanted to stomp my feet when I read her spaghetti sauce recipe because we do the same thing on this one – roast the tomatoes.  Drat!  I'm going to try hers anyway, even though I make mine just about the exact same way. 
There are some recipes I can't wait to make because I have not perfected them yet.  I have made dozens of crab cake recipes over the years, but have never found the ones that made me want to throw out all the other crab cake recipes.  I love my chili recipe, but this one sounds intriguing. I will also make her "Mom-Style Potato Salad" but I am guessing it will not stand up to my friend Roxanne's recipe.  And I know I can beat her cinnamon rolls, hands down. 
But here's the deal.  It doesn't matter who makes the best whatever, because we all have our family favorites, and that's the way it should be.  Cooking is more than just skill, it's the love that goes into it.  And nothing can beat that.
… except my chocolate chip cookies.