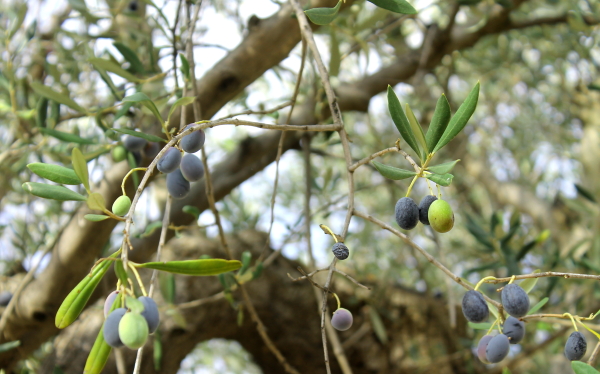 I have had a love affair with olives since I was a child.  I can remember placing pitted olives, both green and black on each one of my fingers and then happily eating them one by one.  To me, they were a better after school snack than cookies.  My obsession continues, and especially after a trip to Italy last fall where I took probably fifty photos just of olive trees.   These were both taken in Butera, Sicily.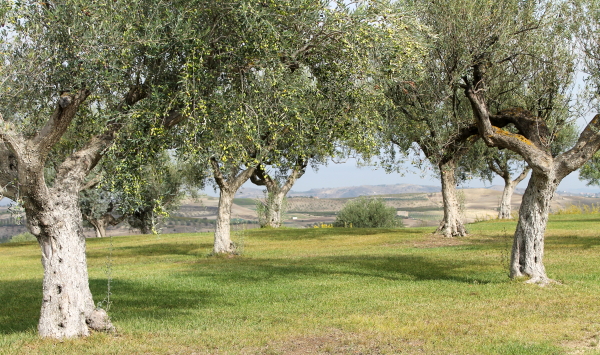 Many grocery stores now have olive bars, and some Farmer's Markets also offer a wide variety of olives.  I bought some beautiful kalamatas and green olives yesterday not quite knowing what I would do with them, but they looked so beautiful, I bought a large container of each.  At the same time, I also remembered a recipe I made a while back and had forgotten about.  You just take a jar of large size pimiento-stuffed olives, add a few items to the jar and let them marinate.  I had made them for an appetizer at a party and they were gobbled up in minutes.  It was going to be olive heaven in my kitchen.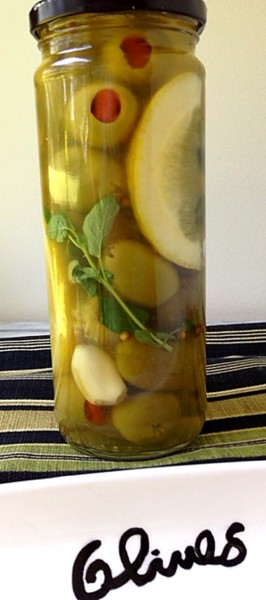 The first one I made was the marinated olives because they have to sit in the refrigerator at least a week before eating and can be kept for up to a month.  All you do is drain the olives, reserving the brine, and then pack the olives back in the jar along with fresh oregano sprigs, garlic cloves, lemon wedges, peppercorns, lemon juice, and the brine.  It's hard to wait the week, but well worth it.  I have never had any last the month!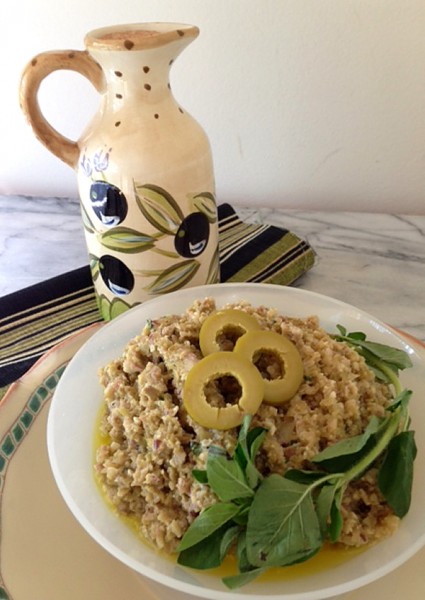 This olive pesto is to die for!  It would be good on just about anything, but it's wonderful on fish, crackers,  toasted Italian bread, or tossed with pasta.  Or just eat it with a spoon.
Lemon and Oregano Marinated Olives
10 ounce jar large size pimiento-stuffed green olives
3 fresh oregano sprigs
3 cloves garlic, peeled and slightly crushed
2 lemon wedges
10 whole black peppercorns, or half black, half pink
3 Tablespoons fresh lemon juice
Drain the olives, reserving the brine.  Layer the olives back into to the jar along with the oregano, garlic, lemon wedges, and peppercorns.  Pour in the lemon juice, then add the reserved brine from the jar to fill almost to the top.  Place the lid tightly on the jar and shake well.  Refrigerate at least a week or up to a month.
Green Olive and Pine Nut Pesto
1-1/2 cups large green pitted olives
1/2 red onion, coarsely chopped
1/3 cup pine nuts
2 cloves garlic, sliced
1 Tablespoon chopped fresh oregano
1/2 cup extra virgin olive oil
In the bowl of a food processor, place all ingredients except olive oil.  With the machine running, slowly add the olive oil until it is combined and the mixture forms a thick paste.  Spoon into a bowl and let stand for about 30 minutes before serving to blend flavors.  Refrigerate leftovers, but serve at room temperature.  Makes about 2 cups.