This is how my chives look in my garden right now.  The purple flowers are gorgeous.  Chives are wonderful, but grow like weeds, so I have to cut them back every year.  I love them on everything, even on eggs for breakfast.  Here is a chicken dish with a rich chive sauce.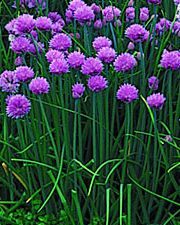 CHICKEN BREASTS WITH CREAMY CHIVE SAUCE
8 ounces mushrooms, quartered
2 Tablespoons sliced green onion, with some tops
1 Tablespoon lemon juice
2 Tablespoons butter
1/4 cup all-purpose flour
1 teaspoon salt
Pepper, to taste
3 chicken breasts, skinned, split, boned, and slightly flattened
3 Tablespoons butter
3/4 cup chicken broth
1 Tablespoon flour
1 Tablespoon butter, softened
1 cup whipping cream
2 Tablespoons snipped fresh chives
Whole chives, for garnish
1.  Saute mushrooms and green onion with lemon juice in 2 Tablespoons butter in a small skillet over medium heat, stirring occasionally until softened, 2-3 minutes; reserve.
2.  Mix 1/4 cup flour, the salt and pepper; coat chicken.  Saute floured chicken in the 3 Tablespoons butter in large skillet over medium heat, turning frequently, 2-3 minutes (do not brown chicken).  Add chicken broth.  Heat to boiling; reduce heat.  Simmer, covered, 6-8 minutes.  Remove chicken from skillet; keep warm.
3.  Mix 1 Tablespoon flour with 1 Tablespoon softened butter in small bowl until smooth; stir in 1/4 cup of the pan juices gradually.  Stir flour mixture into remaining juices in skillet.  Cook over low heat, stirring constantly until thickened, about 2-3 minutes.  Add cream gradually; cook, stirring constantly, until smooth.  Stir in reserved mushrooms and onions, and the snipped chives.  Arrange chicken on serving platter, spoon on sauce, and garnish with some pretty chive stalks.  Makes 6 servings.