I read somewhere that a man in New Jersey once grew a lemon indoors that weighed 3 pounds and measured 17 inches in circumference! My little lemon tree that is indoors most of year probably will never grow one quite that big. I love everything lemon – even lemon-scented furniture polish. Here is an easy and delicious dinner to make in less than 15 minutes!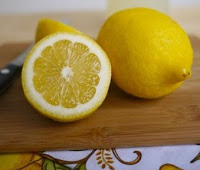 SCALLOPS MEUNIERE
1/2 cup unsalted butter, melted
2 Tablespoons fresh lemon juice
2 Tablespoons snipped flat leaf parsley
Salt, to taste
1 pound sea scallops
Lemon slices
1. Mix butter, lemon juice, and parsley; divide mixture in half. Lightly salt scallops and toss with half of the butter mixture.
2. Broil scallops 2 inches from heat until light brown, about 4 minutes. Turn scallops and broil until brown, about another 3-4 minutes.
3. Heat remaining butter mixture; serve with scallops. Garnish with lemon slices. Serves 3-4.