My husband Bill loves to snack on cookies while watching the Cubs play.  He decided chocolate chip sounded like a winner. However, this past Wednesday the presidential debate was on at the same time.  What to do?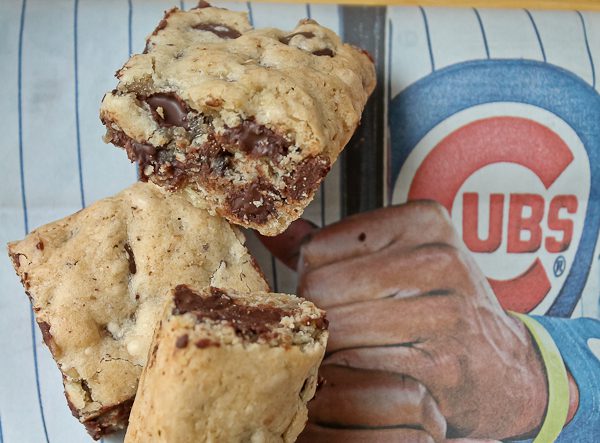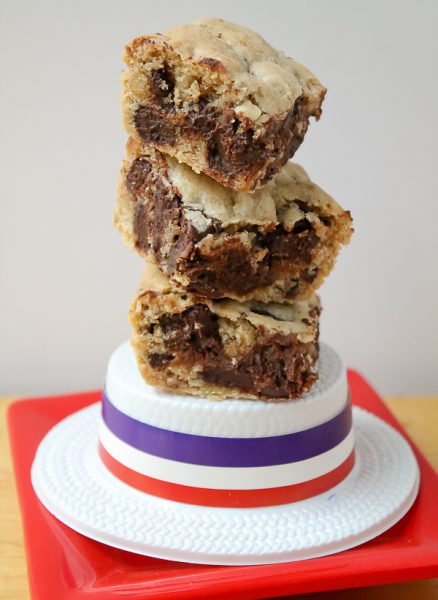 Truth be told, the Cubs won out on viewing time more than the debate, but the big winner was the cookies.  I didn't feel like making drop cookies which take longer, and then I remembered that when I wrote my blog about Marion Cunningham's Lost Recipes earlier this week, there was a recipe for chocolate chip bar cookies.  She called them "Children's Chocolate Chip Squares."  Bill proved that he can love them as much as any child.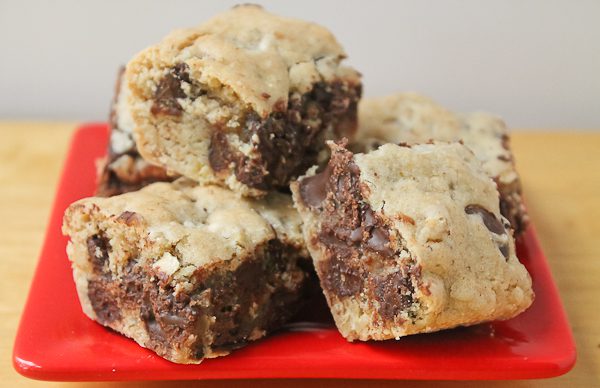 When I read the recipe, I was surprised that they had no butter, just a small amount of vegetable oil.  I wasn't expecting them to be so moist and gooey, but then again I shouldn't have second-guessed Marion Cunningham!  They are incredibly moist, very chocolately, very thick, and ooey gooey good.  The only thing I did differently is that I toasted the walnuts first, and I used dark chocolate chips because I had no semisweet on hand.  I am certainly going to make these again, even if there is no longer going to be any more debates, and even if the Cubs lose.  But they won't. Right?

Chocolate Chip Bar Cookies
Author:
Marion Cunningham (who called them "Children's Chocolate Chip Squares"
Ingredients
1-1/2 cups all-purpose flour
1-1/2 teaspoons baking powder
½ teaspoon salt
1 cup sugar
⅓ cup vegetable oil (I used canola oil)
2 eggs, lightly beaten
½ cup chopped nuts (I used walnuts and toasted them first)
2 cups (12 ounces) semisweet chocolate morsels
Instructions
Preheat oven to 350 degrees F. Grease and lightly flour an 8-inch square pan; set aside.
Toss together the flour, baking powder, salt, and sugar. Add the oil and eggs, and beat until thoroughly combined. The mixture will be thick.
Stir in the nuts and chocolate morsels. Scrape the dough into the prepared pan and use your moistened fingertips to smooth the top and spread it evenly. (the dough will be sticky).
Bake for 30-35 minutes or until the top is nicely golden brown and a toothpick inserted in the center comes out clean. Remove from the oven and let cool in the pan on a rack. Cut into 2-inch squares to serve.