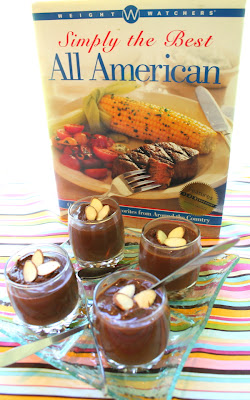 When my friend Lisa (a different Lisa from Monday's blog!) sent me a gift of the darling dessert cups above, I knew exactly what I was going to make.  One of my favorite Weight Watchers cookbooks is Simply the Best All American.  I bought it over ten years ago, and it's still one I use almost every week.  My daughter Kara recently found one at a library book sale and snatched it up.  She knows all the good recipes that are inside. 
The book is filled with coast-to-coast recipes highlighting the best of regional American cooking.  The chapters are divided into New England, Mid-Atlantic, Midwest, Plains, South, Gulf States, Southwest, Mountain West, and Pacific and Northwest.  I have probably made most of the recipes in the book, but have favorites I make over and over such as the Vermont cheddar soup, Cream of Corn soup, Smoked Fish Chowder, Acorn Squash and Pear soup (can you guess I love soup?!).  There are so many more, but the one that my family asks for all the time is the Mexican-Style Chocolate Pudding.  It is made with fat-free chocolate milk, cocoa powder, and semisweet chocolate squares.  It also has a touch of cinnamon and almond extract which makes it extra special and flavorful.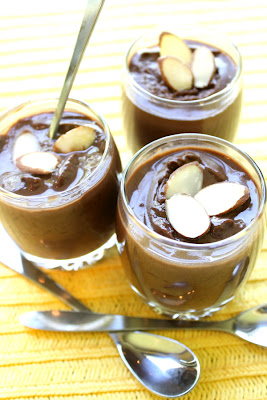 Lisa's dessert cups are the perfect size for the pudding.  The cups came with its own serving tray and spoons, too.  Lisa is a great cook who has won many awards for her cooking and writes a blog called "The Snappy Gourmet." (
www.thesnappygourmet.com
)  Check it out along with this great Weight Watchers cookbook.  Between the two of them, you will never wonder what to make for dinner!