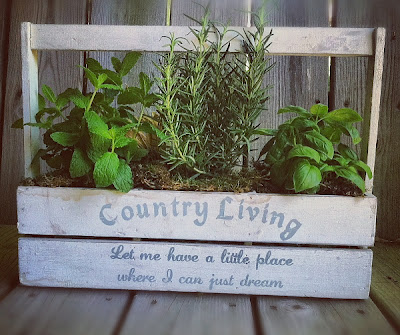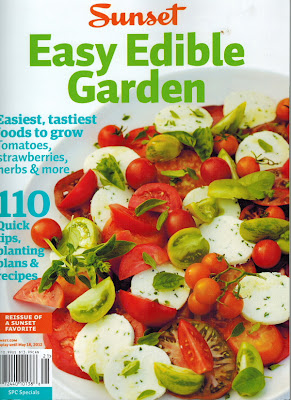 Good friends know what you need and when you need it.  My precious and wise friend Lisa knew all the way from the East Coast that what I needed when I came home from the hospital was a new cookbook and fresh herbs, two of my favorite things in the world.  "Herbs have healing powers, you know," she texted me later in the day. 
The darling container seen above holds basil, mint, and rosemary, lovingly put together by a local florist, with explicit directions from Lisa over the phone.  The cookbook took it all a step further.  Sunset publications are the best.  I have had a subscription to their magazine, given to me every year by my mother, for over thirty years.  I can't recall any recipe I have made from Sunset that didn't turn out wonderful.  This is one of their special publications that are offered occasionally throughout the year.  If you love to cook with herbs, or never have and are interested, find this one!  It gives easy instructions to start an herb garden with incredible recipes from chefs and home cooks alike. 
For an appetizer, try the caramelized pear and sage crostini;  peas with an herb dip; or stuffed zucchini blossoms with goat cheese.  I love the side dishes such as glazed radishes, Swiss chard with pancetta, or roasted potatoes and carrots with thyme.  There are also staples like pesto and tomato sauces.  One recipe that really has me intrigued is the tomato and herb salad with fresh chive cheese.  Making fresh cheese may sound very intimidating, but with five easy steps you can make the salad and cheese as seen on the cover.  I can't wait to try it with my abundance of chives in my garden.  Now I only wish Lisa could be here to share it with me, so I could tell her in person how her generous gift is helping me heal.