Just from the incredible number of entries from last week's drawing for the "Box 'O Books," it is obvious I have many kindred spirits out there!  Yippee!  Are you in the right place, or what??  If you love cookbooks, come here every week at your chance to win.  It's all a random drawing so anyone can win – and even more than once, if you get lucky, and a few actually have!  I know many of you who read my blog love to enter cooking contests.  And those of you who would like to enter contests, but never have, this is the drawing for you to enter!  And maybe some of you seasoned contesters don't have these books yet. 
These three books you could win may just get your creative juices flowing.  The "Cook-Off America" book is filled with prize-winning recipes from cook-offs and food festivals across the country.  There are recipes from the Sutter Home "Build a Better Burger Contest." Mama Mary's Pizza contest, National Oyster Cook-Off, National Pie Championship, Gilroy Garlic Festival, and the International Chili Society World Championship Chili Cook-Off, just to name a few.  I am happy to say I know many of these wonderful people; and to Gloria B., if you are reading this, I have made your "Sizzlin' Spicy Scampi Pizza" from the 1997 Mama Mary contest about a zillion times!  It's a family favorite.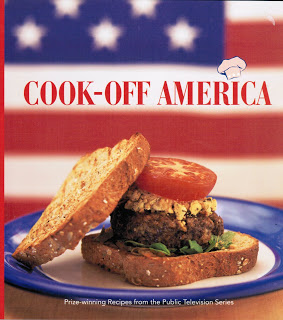 The second book is winning recipes from State Fair competitions across the country, and are truly the "best of the best."  This book is a jewel!  The funniest name for one of the cakes is "Knock You Nakeds."  Someone explain that to me.  Is it something like the "Better Than Sex Cake" from decades ago??!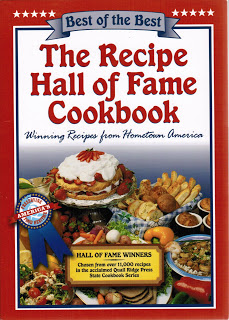 The third offering is from Taste of Home magazine, Spring 2006.  It is the best 276 recipes from 23 national contests.  There are recipes for main dishes, desserts, vegetables, eggs, pies, nuts, chili, breads, and many more.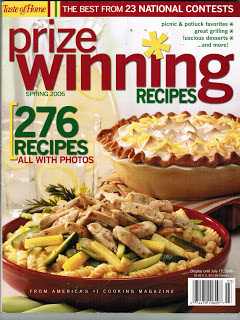 If you would like the chance to win all three of these fabulous cookbooks, just send me your name and email address at [email protected]  or [email protected]  or to my facebook page where I will also post the contest, or you can just post a comment below.  Email by midnight this Friday night, September 17th.  I will email the winner next weekend.  Good luck! 
AND… since the "Box 'O Books" give-away was so very popular, I will be doing another one very soon, so keep checking back.  I already have some great books picked out for you.
Here are the two lucky winners from last week's drawing:  Congratulations to Lynne L. from Pennsylvania who won the box of cookbooks, and to Allison L. from Texas who won the Guy Fieri tee-shirt from Guy's restaurant, Johnny Garlic's, and autographed photo from Guy himself.  Ladies, you will also find a fun extra in each of your boxes!