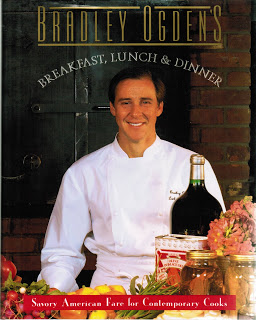 Years ago when I lived in Larkspur, California, right down the road from our home was a renowned restaurant called "The Lark Creek Inn."  Little did I know that less than ten years later, I would be having my wedding rehearsal dinner at this lovely restaurant, owned by Bradley Ogden.  When I recently found this cookbook, Breakfast, Lunch, and Dinner, I couldn't wait to buy it.  I have great memories of this beautiful home-turned-restaurant.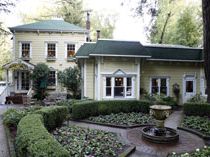 Back in the 1920's and 30's when the home was vacant, it was considered haunted.  I don't really know why, except that no one lived there, so maybe people let their imaginations run wild.  In 1949, the house gained national fame when it was used as a location for the Brian Donlevy/Ella Raines movie "Impact."  The house was converted into the restaurant in the 1970's.  The restaurant is situated on historic Magnolia Avenue where many of the buildings are listed on the National Register of Historic Places.  You can view these lovely buildings here.  Make it a point to look at the Lark Theater – it's gorgeous art deco, and I enjoyed many a movie there.  I recall the first movie I ever saw in that theater was Stanley Kubrick's A Clockwork Orange from 1971.  The restaurant faces Madrone Avenue, which is where I lived way up through the twisty, winding road.  On the way to my home back then, you also would have passed the street off to the left where Janis Joplin lived.  Apparently the stories were all true about her love of Southern Comfort, since neighbors did not appreciate her lawn littered with the empty bottles.  From what I remember, her Larkspur home was her last known address before she died. 
Now back to this great cookbook, where Bradley Ogden's recipes are considered sophisticated twists to home cooking.  Bradley grew up in Michigan with a mother who loved to cook and a father who enjoyed churning ice cream.  They enjoyed fresh brook trout, rhubarb, corn, cranberries, cherries, blueberries, and other Midwest delicacies.  There was even a cookie factory down the road which filled the air with its aromas each day.  Bradley graduated with honors from the Culinary Institute of America, but he always stayed true to the robust, homey flavors of his Midwest upbringing.  The breakfast section includes griddlecakes, waffles, French toast, crepes, and fritters.  I was happy to see my favorite, buckwheat pancakes, but I can't wait to try the lemon-poppyseed waffles.  The butters, preserves, and toppings include blackberry butter, cherry butter, pistachio praline butter, apricot-orange preserves, and rhubarb-raspberry preserves to serve with the breakfast offerings.  Lunch and dinner recipes are equally enticing with soups, salads, fish, poultry, and meats – including a venison chili; and comforting desserts such as cobblers, crisps, and puddings.  The Lark Creek Inn was the perfect venue for our wedding rehearsal dinner, and an evening that our family still remembers with fondness.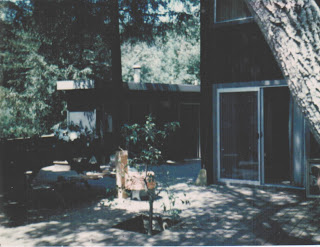 Our home in Larkspur, up the road from the Lark Creek Inn.  We were surrounded by redwood trees, some growing right up through the decks.  I can still remember falling asleep to the distant sound of foghorns in the bay, and waking up to the smells of the canyon trees.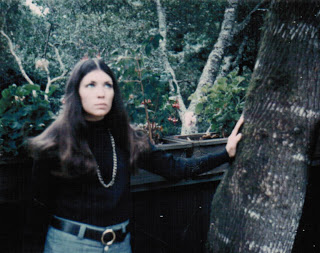 I have no idea what I was looking at – but don't you love the 70's hair and clothes!?