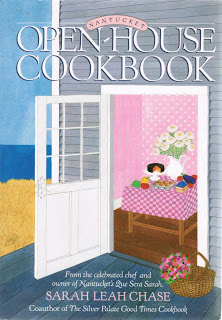 I hope everyone had a great Christmas!  Are you tired from all the festivities?  Well…. it's not over yet!  New Year's Eve is this Friday.  Plus, in the cold months ahead, many people have friends and neighbors over for impromptu gatherings, poker parties, or any excuse not to go out driving in the snow.  With a cookbook like this, you can plan some great meals and other culinary delights in the warmth of your kitchen.  The author, Sarah Leah Chase is also the co-author of The Silver Palate Good Times Cookbook, so you know the recipes will be wonderful.  It is also one of Food Network star Ina Garten's favorite cookbooks!
If you would like to enter the random drawing for this marvelous cookbook, send me your name and email address by midnight CST Friday, December 31st to [email protected]  and I will email you if your name is drawn.   Good luck!!
Congratulations to the winners of last week's drawing,  Mary L. of  Georgia who won the appetizer cookbooks, and to Rona S. of Oklahoma and Terri C. of Nevada, who both won the soups and stews cookbooks!