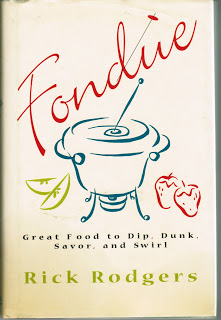 Fondue always seems to make a comeback every now and then.  It probably keeps making periodical comebacks because it's just a fun way to eat.  It can also be romantic, as dipping strawberries into chocolate, or exotic with foreign flavors, or comforting with melted cheese and bread.  Fondue is meant to be an intimate meal, like a Valentine's dinner for two, or a group of six looking for something different for dinner.
When most people think of fondue, it is usually the melted Swiss cheese with wine and a touch of kirsch, with bread cubes for dipping.  Not that it still isn't good, but since fondue is adventurous cooking, why not try some of the ideas from the author:  dipping focaccia into a sun-dried tomato fondue; sausage fondue with an apple butter mustard; lobster into a Newburg sauce; chorizo chunks into a cheesy, spicy Mexican fondue; or dipping a cookie into Venetian espresso fondue.
When serving fondue, guests should spear the bite-sized food item being offered and swirl it in a figure eight as they dip, which discourages the fondue from  separating.  One should also be careful about losing their speared food in the fondue pot.  In Switzerland, there are "punishments" for doing so; a man has to buy the next pot of fondue or a bottle of wine, and a woman is supposed to kiss the man of her choice.  I didn't know this until I read it in the book, but at the bottom of the fondue pot, when everyone is done eating, there is a thin film of the leftover fondue on the bottom that wasn't scraped up called "la religieuse," or "la croute."  Apparently, it is delicious and everyone wants it.  I don't remember that, so I guess it's time for me to get the out fondue pot – and maybe drop a piece of food on purpose just to get that kiss.