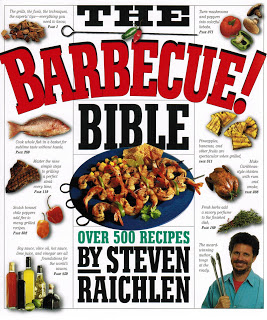 I have two sets of cookbook give-aways this week!  This first one is a jewel!  One of my lovely readers, Susan B. from Pennsylvania, wrote and asked me if she could donate this wonderful cookbook for my weekly give-away.  Not only is it kind and generous for her to do so, she certainly picked an amazing book!  This giant, heavy book of over 556 pages is filled with incredible recipes from Steven Raichlen of "Barbecue University."  The book covers all the bases of charcoal vs. gas, step-by-step instructions for grilling anything perfect, and over 500 recipes.   Thank you, Susan, for being a dedicated reader of my blog, and for your generous gift of this book to one very lucky winner! 
The second give-away for this week is actually two books.  I know there are many readers with various food allergies and those who prefer meatless cooking.  These two paperbacks are terrific!  Recipes for a Small Planet is a classic from 1973, and was called one of the most important cookbooks of the 70's.  The second book is filled with recipes for allergy diets such as dairy-free, egg-free, corn-free, soy-free, wheat-free, and gluten-free.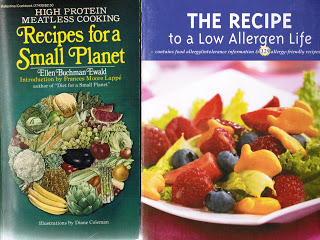 If you would like to enter the random drawing for the Barbecue cookbook or the Allergy/Meatless cookbooks, just email me at
[email protected]
  and leave me your name, email address, and which cookbook drawing you would like to enter, or if you would like to enter both drawings, that's good, too!  Get this info to me by midnight this Friday, August 13th, and I will email you if your name is drawn.  Good luck!
Congratulations to last week's winners in the guess-the-number-of-cookbooks-in-the-bags contest.  The total number of cookbooks in the bags is 33.  The winners of the cookbooks had to guess the number without going over.  Ronna F.'s guess at 28 came the closest, so she wins the Silver Palate Good Times Cookbook. "Julie" came in 2nd guessing 27 and wins the Dinner on a Dime cookbook from Taste of Home.  Here's the problem:  I don't know who you are Julie, because you didn't leave your email address and I have no way of contacting you!  If you are reading this, please email me and give me your info so I can mail you the book!