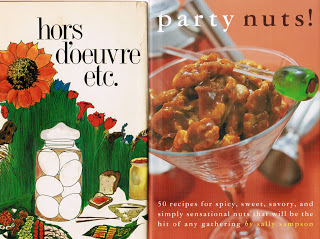 There will be many parties and family gatherings the next couple weekends, so here are two more books for ideas.  You can never go wrong with nuts;  it is easy to grab a handful to munch on while chatting with friends.  The Party Nuts book is filled with recipes for spicy, sweet, and savory nuts like Cajun pecans, toasted cumin hot pecans, curried garlic peanuts, saffron pistachios, or sugar and spice walnuts.  The hors d'oeuvre etc book is a fun, retro one from the early '70's with classic recipes like shrimp balls, stuffed mushrooms, cheese spreads, quiches, pates, fondues, and endless canapes. 
If you would like to enter the random drawing for these cookbooks, send 
your name and email address 
to
[email protected]
  by midnight, December 24th CST, and I will email you if your name is drawn.  Good luck!