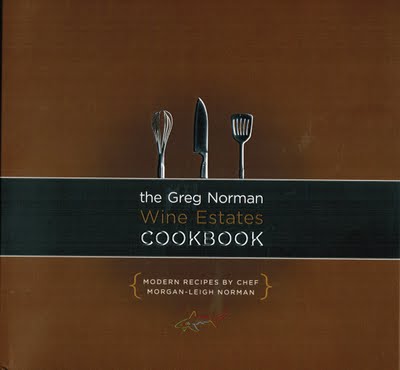 If you read my blog above from today, you know I have this great cookbook to give away this week!  Actually, if you didn't read the blog yet, go read it to learn all about golfer Greg Norman and his incredible Wagyu beef, plus there's a great recipe.  After reading that recipe, you will want more! 
Here is just a taste of what you will find in the cookbook: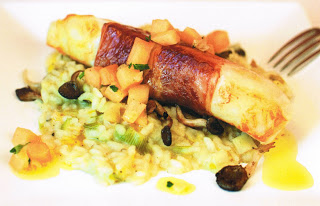 This beautiful dish is "Prosciutto Wrapped Sea Bass with Wild Mushroom and Leek Risotto with Warm Cantaloupe Salsa."  It is paired with a Greg Norman Estates Santa Barbara Chardonnay.  Other recipes include "Grilled Australian Prime Wagyu, Potato-Parsnip Puree, Cherry Tomatoes, and Brussels Sprouts," "Mini Salmon Pistachio Envelopes with Herb Yogurt," and "Spaghetti with Fresh Crab, Clams, Mint, and Spicy Cherry Tomatoes." 
To win this wonderful cookbook, send your name and email address to me at
[email protected]
  by this Saturday, June 4th, at 11:59 pm CST.  Good luck!!
Congratulations to Brenda W. from South Carolina who won last week's drawing of the Gordon Ramsay cookbook, "Cooking for Friends."  Brenda said she opened the email telling her she won as she was babysitting for her first new grandchild.  Congratulations on your precious granddaughter, too, Brenda!!  Maybe you can read the cookbook while she is sleeping!