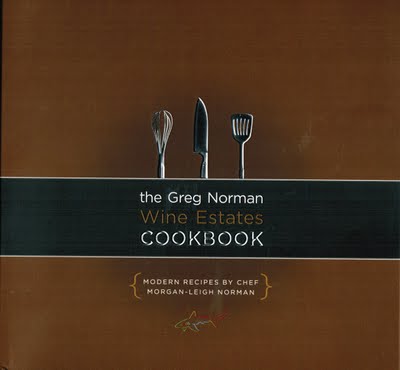 You may know Greg Norman, AKA "The Great White Shark" as being ranked the #1 golfer in the world for 331 weeks throughout the 1980's and 1990's.  He has won 91 professional events including PGA Tour Player of the Year in 1995, 2-time British Open Champion, and was a 2001 World Golf Hall of Fame inductee.  But did you know he could cook?  And he really cooks a mean steak.
Greg grew up around cattle stations in Australia, mustering cattle and rounding up strays. Today, Australian Agricultural Company (AAco) and Greg work together to bring us some of the best steak with "Greg Norman Signature Wagyu."  Wagyu is better known as Kobe beef, but cannot be called Kobe unless it is raised in the Kobe area of Japan, but AAco has the largest herd of Wagyu production outside of Japan and uses Japanese feeding methods.  The incredible beef has intense inter-muscle marbling which leads to butter-knife tenderness.  Australia has the largest area of organic farmland in the world and is one of the most pristine environments to raise livestock. 
This past weekend, my daughter Kristina was honored to cook with Greg and his daughter, Morgan-Leigh Norman, at the National Restaurant Association (NRA) Show.  Kristina thoroughly enjoyed her time with them, and also said it was the best beef she has ever tasted.  In the photo below, look at Greg's pan where he is cooking.  Kristina said instead of putting coarse salt on the meat before cooking, Greg placed the salt in the pan to heat up briefly before adding the steak into the very hot pan.  No oil is needed with the Wagyu beef.  Kristina said the meat is so tender, it can be cut with a plastic fork!  Like butter.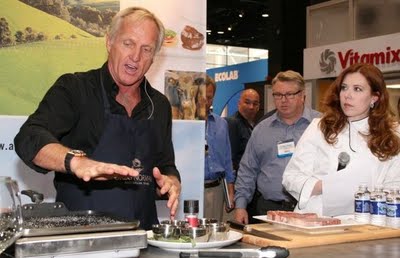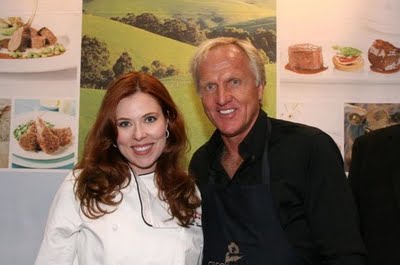 Greg Norman and Kristina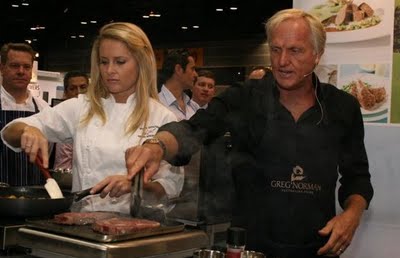 Greg Norman cooking with his daughter, Morgan-Leigh
Display of Greg Norman products at the National Restaurant Association Show in Chicago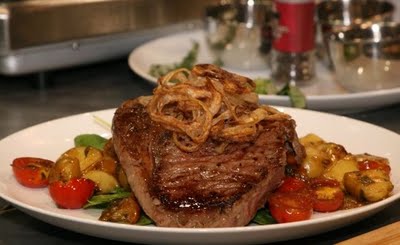 This is the beautiful dish Greg prepared at the show.  Kristina said it was to die for!  And you can have the recipe! 
Grilled Greg Norman Australian Wagyu Rib-Eye with Tomato Pan Sauce and Crispy Shallots
4 Wagyu Rib-Eye steaks, brought to room temperature
Baby spinach leaves, cleaned
Tomato Pan Sauce:
1 Tablespoon butter
1 Tablespoon olive oil
1/4 pound baby potatoes, cleaned quartered, and patted dried
8 ounce cherry tomatoes, halved
8 ounces yellow pear tomatoes, halved
1 Tablespoon fresh thyme leaves
1 Tablespoon fresh basil leaves, chopped
3 teaspoons balsamic vinegar
1 teaspoon white wine vinegar
Salt and black pepper, to taste
Crispy Shallots:
2-3 cups peanut or canola oil
3 medium shallots, peeled and sliced into thin rings
3 cups all purpose flour
1/2 cup bread crumbs
Salt and pepper, to taste
First prepare the pan sauce and shallots:  For the tomato pan sauce, heat a large saute pan over medium-high heat.  Add the butter and olive oil.  Add potatoes to pan and cook for 6-8 minutes, shaking the pan and turning the potatoes as needed.  Each side of the potato should become crispy and golden, and cooked through.  Add the tomatoes to the pan and saute for 3-4 minutes or until the tomatoes just begin to soften.  Add the thyme, basil, balsamic vinegar, and white wine vinegar to pan.  Turn off heat and season with salt and pepper.
For the shallots, start heating the oil to reach 325 degrees.  While heating, mix together shallots, flour, bread crumbs, and salt and pepper.  Coat shallots completely in flour mixture.  Once the oil is hot, use your fingers to break shallots into small rings.  Shake off excess flour and add to oil.  Do not over-crowd oil or shallots will not crisp up.  Cook shallots until they become golden brown, about 1-2 minutes.  Remove from oil, drain and transfer to paper towel-lined plate.  Season lightly with salt.
To grill steaks:  Heat a cast iron grill pan until very hot.  Lightly season steaks with coarse salt on both sides.  Add steaks to grill pan and let cook for 2-3 minutes.  Flip steaks over and cook another 2 minutes, or until medium rare.  Make sure to get a nice grilled crust on each side of steak.  Remove from heat and set aside.
To plate dish:  place fresh spinach leaves on plate.  Top spinach with tomato pan sauce, drizzling liquid around plate.  Top with Wagyu steak and finish off with crispy shallots.  Serves 4.
To win the "Greg Norman Wine Estates Cookbook,"  read my blog after this one to win!!  It is full of great recipes.  You will love it!