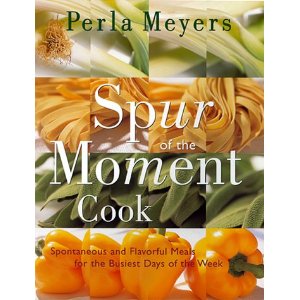 I know everyone is busy this week getting ready for Thanksgiving, and the madness continues all the way through New Year's Eve.  That's why you need this book!  Not only is it from Perla Meyers, who writes some of the best cookbooks ever, but the recipes are made for busy days, yet are healthy and flavorful.  You need this book if it's only to make the "Roast Chicken Legs with Chili and Cinnamon Rub."  It's to die for, especially if you serve some polenta alongside.  Don't expect those 3-ingredient tasteless recipes ready in 5 minutes using packaged food, but instead they are fresh, beautiful, and simple, yet great enough for all those guests you are expecting in the next month, and meals can be on the table in less than an hour, most being under 30 minutes.
If you would like to enter the random drawing for this fabulous cookbook, send your name and email address to
[email protected]
by this Friday, November 25th at 11:59 pm, and I will notify the winner over the weekend.  Good luck! 
Congratulations to Brenda R. from Cedar Park, Texas who won last week's drawing for the bread cookbooks!