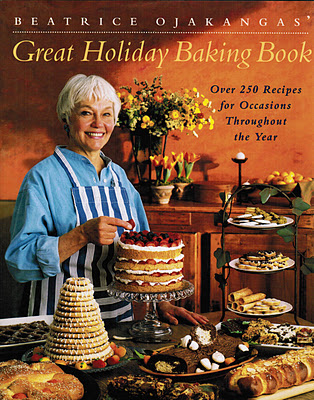 Once again my favorite baker is back, this time with recipes for every holiday, filled with the spirit of baking and sharing with friends and family.  The recipes are for just about any holiday throughout the year, but of course I pulled it out now for Thanksgiving and Christmas.  In addition to Beatrice's always wonderful recipes, she includes tips and explanations of the various holidays.
No holiday would be complete without some kind of baked goods at the meal.  Holidays give us memories. They are full of tradition or they are the time to start new traditions, especially with food.  Think of that special stuffing or dessert for Thanksgiving which would not be the same without it, or your Grandmother's Christmas cookies. 
There are so many good recipes for Thanksgiving and Christmas that we find ourselves wanting to make as much ahead as possible because of the busy season.  They are wonderful times to get into the kitchen, but there are also so many other demands.  Many of the recipes in the book can be made weeks ahead of time, and there are hints on how to store, freeze, thaw, and serve many kinds of baked goods.  One that I know my mom would love is the "Frosty Pumpkin Crunch Squares."  It has a cinnamon-oatmeal crust, an ice cream filling using canned pumpkin, and a whipped cream topping.  Except for the topping, it can be frozen way before Thanksgiving and pulled out just 10 minutes before you are ready to serve it.  Just on the phone the other day, my mom was saying how she should make a frozen pumpkin pie made with ice cream.  Mom – I will send you this recipe and see what you think!
One of our favorite Christmas breads is "pulla," made with freshly ground cardamom seeds.  I have a spice grinder to use for the seeds, but Beatrice gave a great tip-  instead of grinding the seeds in a special grinder, use your coffee grinder so your next pot of coffee will have a hint of cardamom flavor! 
Every holiday meal will be special for you and your family with Beatrice's fabulous recipes.  This is a very special book for those who love baking.  You may even find a recipe to start a new tradition.