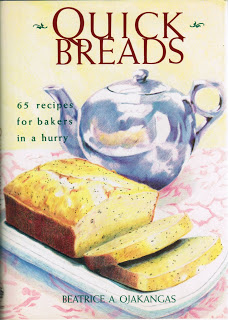 Today's cookbook giveaway in my random drawing is Quick Breads from the ever fabulous Beatrice Ojakangas, one of my favorite cookbook authors.  It's a delightful collection of enticing recipes and spreads for all kinds of quick breads like cinnamon-pear tea bread; apple pie coffee cake; quick cardamom buns; hot raisin bread; and a quick version of stollen.  Some of the spreads are herbed chevre, apricot cream, and whipped spiced amaretto butter.  I LOVE this book!
To enter Tuesday's drawing, send me your name and email address to [email protected]  by 11:59 pm CST tonight!  I will notify the winner tomorrow.
Good luck!! Come back tomorrow to see what book is next!
Congratulations to Brett Y. from Pennsylvania who won yesterday's "Gourmet Preserves" cookbook!  I waited up until midnight to get in all the entries, and my last one came in at 11:58!  Thank you to all who entered, but remember that you can enter every day this week.  There are lots of fun ones coming up!