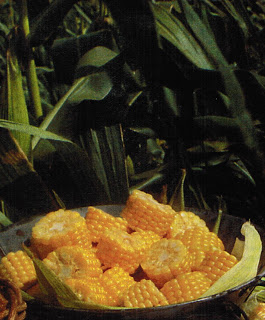 The corn harvest is fresh, sweet, and plentiful – so now is the time to celebrate nature's bounty.  You will find it everywhere, from roadside stands, Farmer's Market's, grocery stores, or maybe even your own backyard garden.  Being from Illinois, of course I love corn.  I grew up with it and still crave it.  Corn can be made into a million different dishes, but it's just as good simply grilled whole on the grill with herbs and butter.  Go ahead and overstock on corn now and have it over the winter.  You can remove the kernels from the cob and freeze them, then you will have it for soups, casseroles, and great corn dishes for Thanksgiving.  Everyone will wonder where you found such sweet and delicious corn in November.   But for now, how about something fun and different to try – corn popovers!  If you love popovers, these are irresistible.  Serve with butter, or even jam or preserves.  You don't even need a fancy popover pan.  These are made in large custard cups.
Fresh Corn Popovers
1/3 cup fresh sweet corn kernels
1/3 cup water
2 eggs
1/2 cup milk
1 Tablespoon corn oil
1 teaspoon sugar
1/2 teaspoon salt
Large pinch freshly ground white pepper
1 cup all purpose flour
Vegetable oil for custard cups
1.  Heat oven to 425 degrees.  Place corn and water in container of blender or food processor; process until corn is finely chopped.  Drain through a sieve into measuring cup; add more water if necessary, to measure 1/2 cup corn liquid.  Reserve chopped corn and corn liquid separately.
2.  Whisk 1/2 cup corn liquid, the eggs, milk, corn oil, sugar, salt, and pepper in medium bowl until well blended.  Whisk in flour until batter is smooth. Stir in corn.
3.  Generously oil 6 deep heavy 6-ounce ceramic custard cups.  Place cups on baking sheet; place in oven until very hot, about 4 minutes.
4.  Remove baking sheet from oven.  Immediately ladle 1/3 cup batter into each hot custard cup.  Bake for 15 minutes.  Reduce oven temperature to 400 degrees.  Bake until popovers are firm and well browned, about 20 minutes longer.
5.  Remove baking sheet from oven.  Pierce one side of each popover just above rim of cup with tip of small knife.  Carefully remove popovers from cups and place on their sides on baking sheet.  Return to oven and bake again until popovers are crisp and dry, about 5 minutes.  Serve immediately.  Makes 6 popovers.