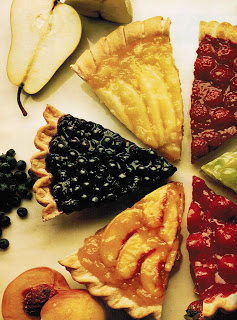 Choose your favorite fruits of the summer and create a variety of pies.  They are all beautifully glazed and will make summer entertaining a breeze.
Glazed Fresh Fruit Pies
For each pie of choice:
6 cups fresh fruits (sliced peaches, nectarines, or Bartlett pears;  or whole strawberries, raspberries, blueberries, or grapes)
1 cup sugar
3 Tablespoons cornstarch
1/2 cup fruit juice (use pear nectar with pears; orange juice with peaches, nectarines, strawberries, raspberries, or blueberries; and white grape juice with grapes)
2 Tablespoons lemon juice (omit if using strawberries or raspberries)
9-inch baked pie shell
1.  Mash enough fruit (from the 6 cups) of choice to measure 1 cup; set remaining fruit aside.  Blend sugar and cornstarch in saucepan; stir in fruit juice and mashed fruit.  Cook over medium heat, stirring constantly, until mixture thickens and boils, about 8 minutes.  Boil and stir 1 minute.  Remove from heat; stir in lemon juice. Cool.
2.  Pour half of mashed fruit glaze into baked pie shell, spreading over bottom and up side, completely covering pie shell.  Fill with remaining fruit.  Pour remaining glaze over top, completely covering fruit.  Refrigerate at least 3 hours.