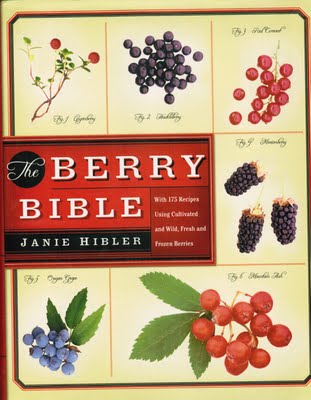 By now, everyone knows from Dr. Oz  and countless magazine articles, that berries are good for us.  So good for us, in fact, that berries have been proven to be capable of preventing multiple diseases, including cancer, cardiovascular disease, and neurological disorders.  The preventative effects of berries are due to their role as antioxidants.  I am guessing that the interest in berries will have people searching out berry cookbooks, and here is one of the best. 
Author Janie Hibler traveled the globe in her quest for berry lore, facts, and recipes.  She has the history of 41 berries and personal annotations on how to use and store them, and will inspire you to try the wonderful recipes in the book, like brioche french toast with sauteed berries, Marionberry biscuits, refreshing berry lemonades, and savory dishes like chicken breasts with blueberry Port, and jalapeno-stuffed leg of lamb with blackberry-chile-mint preserves. 
I have many favorite berries, notably blackberries and all varieties of raspberries, but one I have learned to love in the past decade is Scandinavian lingonberries.  Unfortunately, lingonberries are not well known in this country, but you can find them at Ikea and some supermarkets.  I am so lucky I can find them near me, and I buy them all the time. They are delectable with Greek yogurt and on Swedish pancakes.  Lingonberries are closely related to cranberries and blueberries and produce brilliant red berries about the size of a pea.  In Sweden and Finland lingonberries are considered the "red gold" of the forest and are the countries' most important berry.  Most of the berries imported to the United States come from Canada and Scandinavia, and mostly made into products for the American-Scandinavian community. 
I found this gorgeous lingonberry jam container at a Scandinavian store in a quaint little town called Long Grove near my home.  It's looks beautiful on a Sunday morning table with Swedish pancakes!