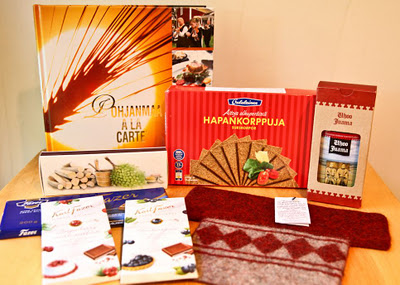 My husband's cousin Jouni from Seinajoki, Finland paid us a visit and brought along these delectable food gifts of chocolates with lingonberries and blueberries; crisp rye crackers, and lingonberry concentrate, along with a darling hot pad made to resemble a Finnish sweater, and an amazing cookbook.  The hot pad is so adorable that I don't think I can bear to place anything hot on it.  I think it is going to end up as a decoration on the wall of our family room, which we are planning to redecorate in the Finnish style.
Jouni and my girls.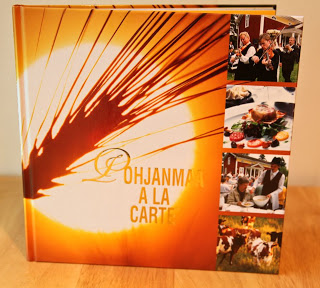 Pohjanmaa a la Carte is the cookbook from the region of Finland where Jouni and his family reside, not far from the Arctic Circle.  The book is filled with Finnish cuisine that reflects the region such as smoked whitefish with a mustard sauce; an unusual sorbet using birch liqueur and birch leaf extract; an herbed leg of lamb with a mint syrup-cream sauce; filet of beef with chanterelles (they grow wild in Finland!) potatoes, and leeks; and my favorite-sounding recipe-  fried whitefish with chanterelle hash and cloudberry sauce.  I don't think you can get more Finnish than that!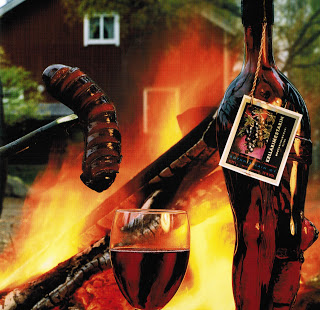 These are red wine sausages made with beef, pork, nutmeg, and blackcurrent wine.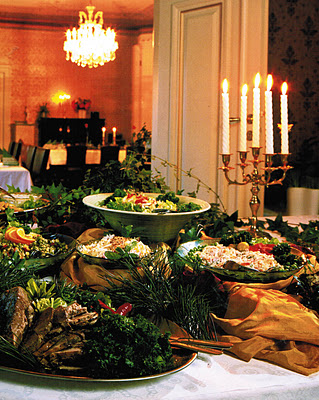 A beautiful Finnish holiday table.
Finland is one of the idyllic places on earth to celebrate Christmas, with reindeer, snow, food to warm the soul, and rumor has it, the real Santa Claus.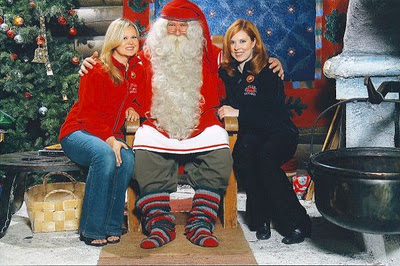 My girls at the Arctic Circle with Santa.
Hyvaa Joulua!!