I have loved watching Curtis Stone since his Take Home Chef show years ago.  Now Curtis has his own restaurant, Maude, in Beverly Hills, and hosts Top Chef Masters and Top Chef Duels.  My daughter Kristina had dinner at Curtis's home when she lived in LA, and has dined at Maude.  She says Curtis is as nice as he seems and guess what else – he collects cookbooks.  No wonder I like him.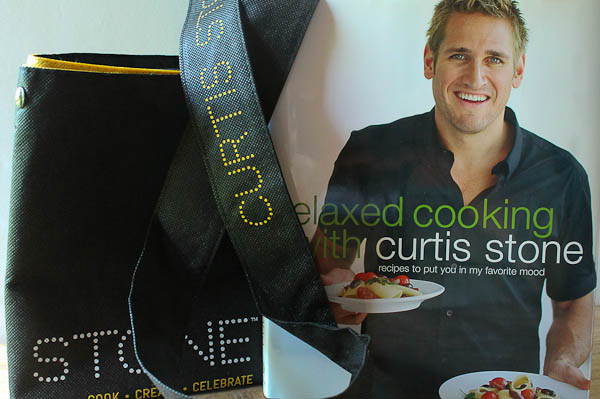 This is a great cookbook.  I have made at least ten recipes from the book and loved them all.  My husband was crazy for the peanut butter cookies with chocolate chunks.  All of the recipes are perfect for family dining or entertaining.  Either way, they are not difficult and taste wonderful.  His recipes will make you happy.  I promise.
And not only do I have the Curtis Stone Cookbook Giveaway for you, but I will include a Curtis Stone tote bag!  You can't lose.
 To enter the giveaway (Continental USA only) leave a comment here on the blog of why you love this sweet and talented Aussie chef or what it is you like about Curtis, and you are entered!  The winner is chosen using random.org and will be notified next Sunday by email and also announced on next Monday's giveaway.  Deadline to enter ends Saturday, September 6th, 2014, at 11:59 pm CST.
Good luck, everyone!  Wouldn't you love to have Curtis staring at you while you are cooking?
Congratulations to last week's winner of the Sara Moulton cookbook, Deborah A. Manning.