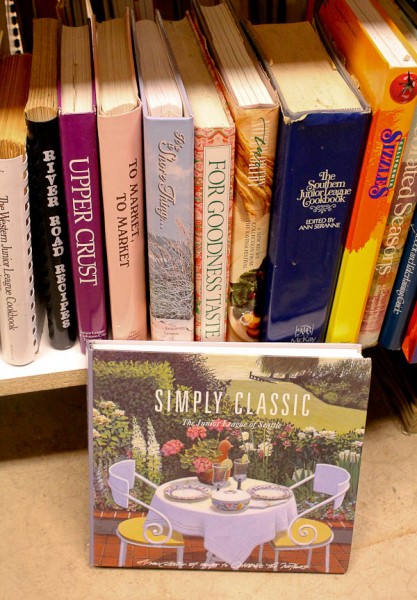 I have the most wonderful friends and readers who send me cookbooks from all across the USA and the globe.  Kim, my friend of over twenty years,  sent me Simply Classic, from the Junior League of Seattle.  As you can see from my shelf of Junior League cookbooks from all over the country, I love collecting them. Junior League cookbooks try to find the best of the best from their members, friends, and sometimes local chefs and favorite restaurant recipes.  Simply Classic took four years to complete and has over 250 fabulous recipes narrowed down from over 2,000 that were submitted for consideration.
As you can imagine, Seattle has some of the greatest recipes in the country, with its proximity to some of the world's best seafood, farms, ranches, and orchards. Not to mention, Seattle has one of best ever Farmer's Markets!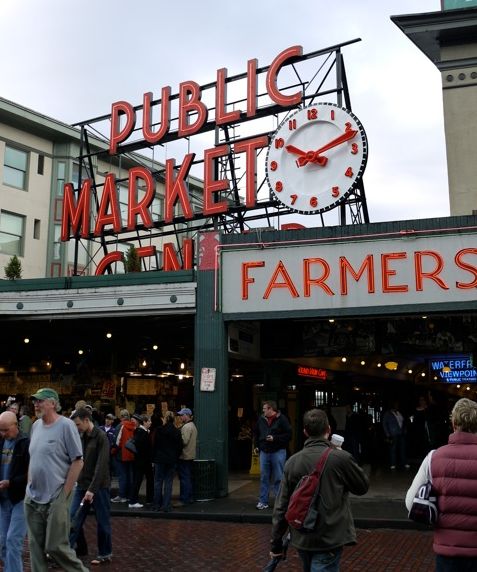 One of my favorite areas of the market is the seafood.  We watched the famous "fish toss" to the delight of the crowds, as we admired the available varieties. Since salmon is probably what I cook most often, I wanted to find a salmon recipe in the Simply Classic cookbook.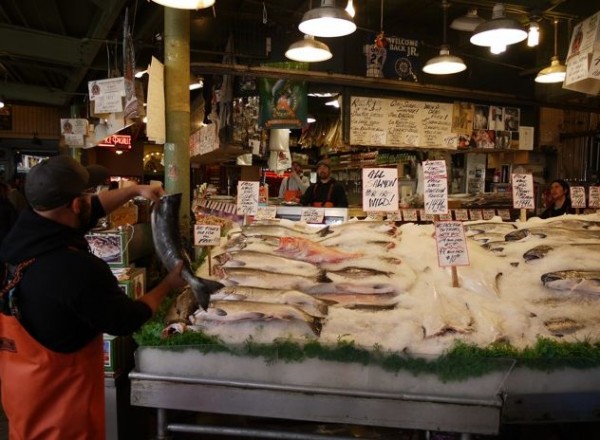 What caught my eye was the recipe for "Sesame-Crusted Salmon with Asian Noodles."  It tastes as good as it looks!  The salmon is brushed with sesame oil and sprinkled with sesame seeds.  The noodles are tossed with a lime-sesame oil-hot chili oil combo with refreshing slices of cucumber along with cilantro and green onion.  You can have this beautiful meal on the table in less than an hour.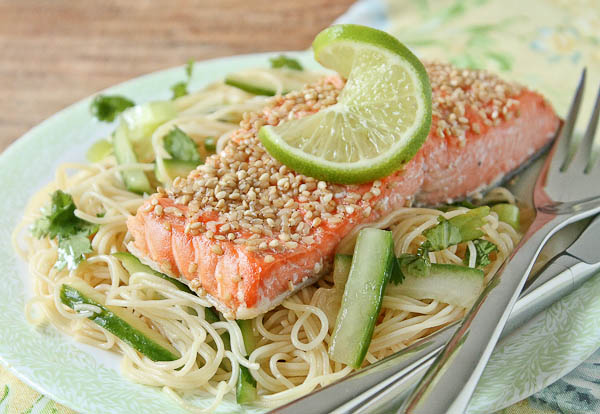 Not only are the recipes in the book out of this world, but there are menus all figured out for you.  The "Northwest Harvest Dinner" consists of a creamy butternut squash bisque; pork roast with spicy pears; wild rice with cherries; a wild mushroom saute; and apple bread pudding with cider sauce for dessert.  For a "Best of the Market Dinner," start with prosciutto pinwheels; a red-white-and-blueberry salad; salmon cakes; summer vegetable couscous; and purple plum cheese tart for dessert.  There are many more delicious menus, all balanced and figured out for you and next to each recipe is the page number where to find it.  It takes away all the stress of planning for your next party or family gathering.
I can't say enough good things about this cookbook.  It's going to be one of my staples.  Here's the recipe for the salmon.  I think you will love it!
Sesame-Crusted Salmon with Asian Noodles
Author:
Junior League of Seattle
An Asian-inspired Salmon recipe
Ingredients
1-1/2 pounds salmon fillet
1 Tablespoon sesame oil
2 Tablespoons sesame seeds
½ pound spaghettini
½ cup sliced green onion with some tops
½ cup plus 2 Tablespoons chopped fresh cilantro
½ English cucumber, cut into thin strips
Dressing:
3 Tablespoons rice wine vinegar
2 Tablespoons freshly squeezed lime juice
4 teaspoons soy sauce
1 teaspoon hot chili oil
¼ cup peanut oil
2 Tablespoons sesame oil
Instructions
Prepare grill (or see below for oven version*). Place salmon, skin side down, on a foil-lined baking sheet. Remove all bones. Make small folds in edges of foil, forming a border around salmon, until foil is just bigger than salmon. Brush salmon with 1 Tablespoon sesame oil and sprinkle with sesame seeds, coating evenly. Place salmon on foil over a hot grill, close grill cover and cook 18-20 minutes or until salmon is barely opaque throughout.
For dressing: In a small bowl, whisk together vinegar, lime juice, soy sauce, and hot chili oil. Add peanut oil and sesame oil in a slow, steady stream, whisking constantly, until well-blended.
Meanwhile, cook pasta according to package directions. Drain well. Pour dressing over pasta. Add green onion, ½ cup cilantro, and cucumber. Toss to mix thoroughly. Pasta can be served hot or at room temperature.
Divide pasta among individual plates. Cut salmon on the diagonal into 4 equal-sized portions. Lift portions from foil with a spatula, leaving skin behind. Place salmon on bed of pasta and sprinkle with remaining cilantro. Serve immediately. Serves four.
*Once when it was not possible to grill outside, I made the salmon in the oven and it turned out great. Heat the oven to 375 degrees. Line a large baking sheet or pan with parchment paper or nonstick foil. Lay salmon, skin side down, on prepared pan. Brush with the sesame oil and sprinkle with the sesame seeds, just as described for grill. Bake salmon for about 15 to 20 minutes, or until just cooked through.