Now that I have all my cookbooks up on their shelves, I saved a special area for my Sphere Magazines.  Now it will be even easier to share the recipes with my readers who love and remember this 1970's publication with fondness.  Tell me which recipe you remember and I'll look it up for you!  Hardly a week goes by that I don't hear from a Sphere Magazine fan.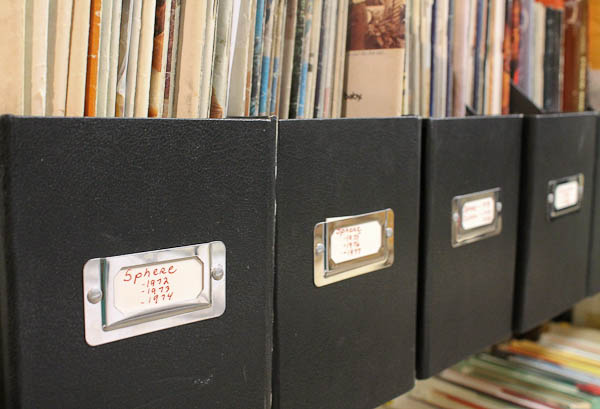 This 1972 issue is filled with apple recipes, the latest fall fashions, vegetable cooking, easy skillet dinners, recipes from the Amana colonies in Iowa, and canning recipes along with a page of labels to use on your jars.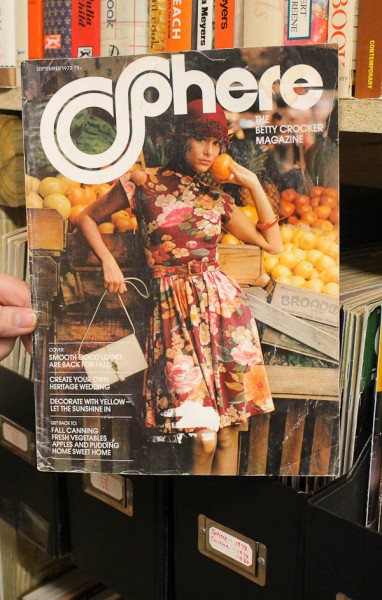 But the article that helped put Sphere Magazine on the map, and one that I get requests for more than any other issue, is the country wedding, that is titled, "A Heritage Wedding for Today."  I have had readers write to me to say that they made this  their wedding, from the dress to the food, to the decorations.  And the cake.  Well, it's the cake that takes the cake. The layers of the cake can be baked three weeks before the wedding and frozen, and the entire cake assembled and frosted the day before.  It stands 12 layers high, with a date-nut and lemon pound cake layers staked alternately, each layer covered with a cranberry, apricot, or plum filling, then sprinkled with a fruit liqueur.  The frosting is coffee buttercream.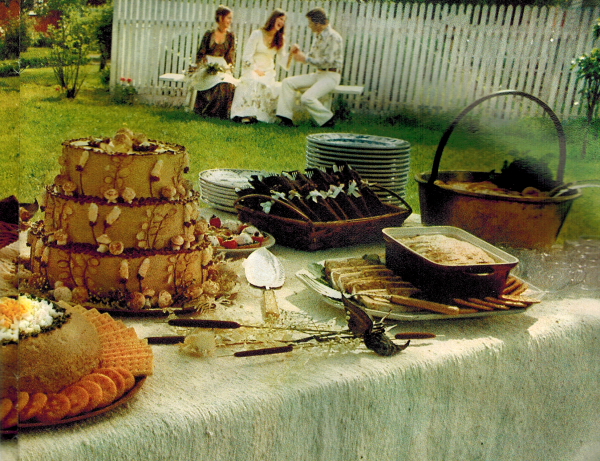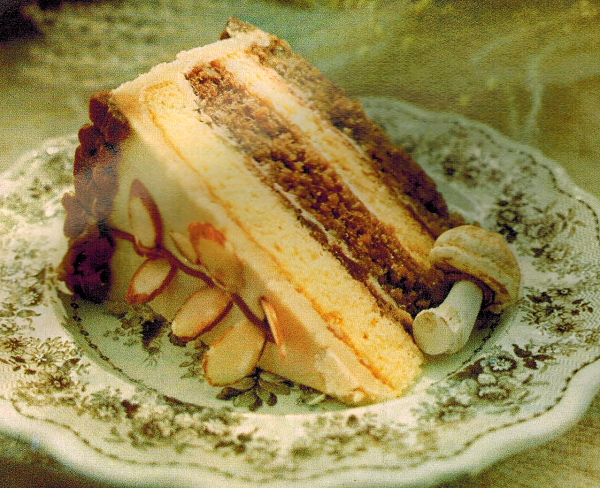 The cake has four pages of instructions, and the ingredients alone take up half a page.  Unfortunately, one of the ingredients called for, a date bar mix, is no longer on the market.  (It called for 6 boxes!)  Since so many people have requested the cake recipe, one of these days I am determined to figure out how to substitute the mix.  The cake is decorated with meringue mushrooms, with extra being made for the bride to hand out to the guests.  According to an old European tradition, the meringues are piled in a basket and distributed as a good luck wish.
This do-it-yourself wedding even includes making the bridal gown: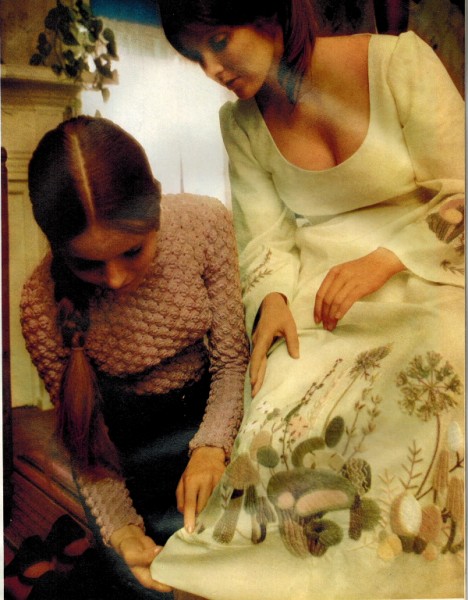 The crewel work on the dress is an art that was practiced a thousand years ago, when women working under the wife of William the Conqueror created the treasured Bayeux Tapestry.
The wedding food is simple and old-fashioned, and served in earthenware pots, antique bowls, and wicker baskets.  This outdoor wedding is truly of the 1970's and would be lots of fun to duplicate even today.  Back then, you could order the bridal dress pattern for $2.25.
I wish I could have baked the wedding cake for you, but instead decided to offer one of the vegetable dishes from this issue.  Corn is in abundance right now and this simple stove top au gratin corn is easy, creamy, and delicious, with toasted bread crumbs as a garnish.  We loved it!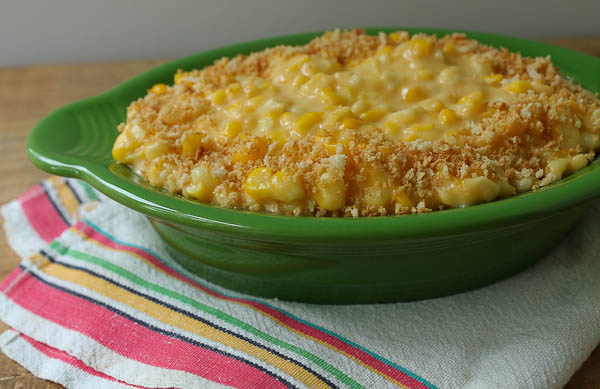 Au Gratin Corn
Rich and creamy au gratin corn made on the stove top.
Ingredients
4 ears fresh corn
½ cup milk
¼ teaspoon salt
⅛ teaspoon white pepper
1 cup shredded Colby cheese
1 Tablespoon all-purpose flour
Toasted bread crumbs for garnish
Instructions
Cut corn from cobs. Heat corn, milk, salt, and pepper in a medium saucepan to boiling. Reduce heat; cover and simmer for 7 minutes.
In a small bowl, toss together cheese and flour; stir into corn mixture. Cook and stir until thickened and bubbly, about 2 minutes. Taste to see if it needs more salt or pepper. Spoon corn into a serving bowl and garnish edges with toasted bread crumbs. Serve immediately.