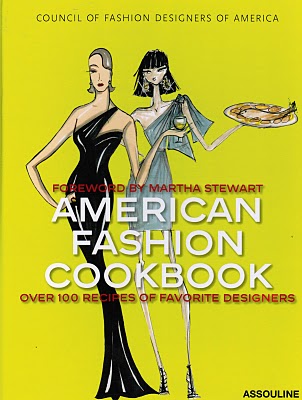 Would you buy a fashion cookbook with the stick figures on the cover?  After all, what kind of recipes could they have to look like that, right? I almost didn't, but glad I did!  I recently went with my two daughters to the lovely Diane von Furstenberg boutique in the meat-packing district of New York City.  As I watched them try on fabulous dress after dress, I had lots of time to browse the store.  I was more than surprised to find a cookbook, of all things, in the establishment of a famous dress designer.   
In the forward, written by Martha Stewart, I realized she had a point when she proclaimed that designers are inventive, clever, and creative, so why not with food, too?  And Martha was right.  Designers create more than clothing, they create a lifestyle that extends to how they live, how they set a table, and how they eat.  The cookbook, put together by the
Council of Fashion Designers of America
, is meant to be a bridge from clothing to the culinary world.  According to designer Cynthia Rowley, creating a recipe is not so far removed from creating a garment.  "Cooking to me," she says, "is exactly the same as designing a collection.  You have all these ingredients and you have to think of every detail."  The legendary Indiana-born-and-bred Bill Blass was known for his simple meatloaf.  He loved his meatloaf so much that he requested it be served at one of his Lifetime Achievement Award galas.  Carolina Herrera has a recipe in the book for a baked potato with a poached egg, a multi-generational family favorite.  So here is where the poached egg in the title of my blog comes from.  I hear from so many people that they cannot make a poached egg.  If you follow Carolina Herrera's method, they will be perfect every time:  Boil water in a saucepan until it comes to a full rolling boil.  Break 2 or 3 eggs carefully into the water.  Immediately, remove the pan from the heat and place a lid on the pan.  Let them sit for exactly three minutes.  Remove carefully with a slotted spoon, and voila! Perfect poached eggs.
The recipes in the cookbook range from the most health conscious, like Donna Karan's all-organic green juice, to the decadent deep-fried Mars bars.  Many of the fascinating dishes were created after dining in such places as Brazil, Malaysia, New Zealand, Scotland, and Turkey.  The cookbook is filled with luscious recipes from designers who want to say something about their food, and not just their designs.  As an extra bonus, which is not found in most cookbooks, there are illustrations of food so amazing, you will be tempted to tear them out and frame them!  But don't do it – the book is a joy to cook from and to read.  I found a recipe for a perfect poached egg, and my girls walked out looking like New York fashionistas.  What a find for us all!