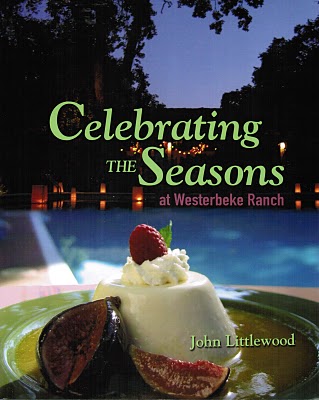 Whenever I visit my mom in Sonoma County, California, I always find my way to Oliver's Market to plan our meals.  It's not a huge grocery store, but it is packed with all kinds of delectable foodie items.  The first thing I find is the Point Reyes Blue Cheese.  Pure heaven.  Next I head to the bulk items area so I can get some crystallized ginger slices for my mom, which she doesn't always cook with- she just like to nibble on them.  Then I immediately turn my cart to the other side of the store to an area with various kitchen items and cookbooks.  I have found so many great cookbooks at Oliver's and Celebrating the Seasons at Westerbeke Ranch  is my favorite.
Westerbeke Ranch is a few miles from Sonoma, about an hour's drive north of San Francisco.  Arriving at the Ranch, you will walk through an arched gate covered with orange trumpet vine.  Next in view is an herb and flower garden full of roses, lavender, poppies, and fruit trees.  There is a urn-shaped birdbath, a swimming pool, umbrella-shaded tables, and a terra cotta-roofed building.  The Mexican tile floors keep the dining area cool in the summer, and two fireplaces will warm your toes in winter.  In this serene setting, many recipes were developed for the cookbook.  But before all this, chef John Littlewood attended the California Culinary Academy in San Francisco, in addition to working at Michelin-starred restaurants in France.  So you know the guy can cook! 
It must be a cook's dream to live in the California wine country, because of the rich agricultural base and the melting pot of flavors and techniques from many different cuisines.  This cookbook captures this unique blend beautifully.  The recipes are fresh and inventive, with each one describing techniques, ingredients, and helpful tips.  The chapters are divided into seasonal menus.  How about a Teriyaki tri-tip steak with wasabi mashed potatoes and baby bok choy with sesame butter?  Or how about a picnic with chipotle barbecued chicken, and Yukon gold potato salad with Dijon dressing, celery and capers?  I love the chapter on "essentials."  Here you will find dependable and indispensable recipes for reductions, sauces, brines, purees, and creams, to name a few.  The last chapter on "Resources" lists tips and hints of everything from what fresh herbs to use, to buying tools and equipment. 
I just found a recipe my mom would love for gingered ice cream, using her favorite crystallized ginger, and served with homemade honey-sesame crisps; but not before we have the green salad with fennel, papaya, and blue cheese "snow."  You'll have to buy the book to find out what that is!