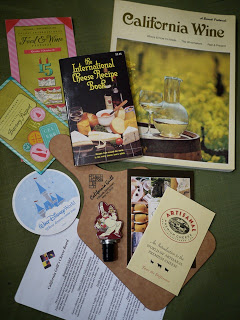 This give-away is all about wine and cheese! The wooden cheese board is from the fabulous California Grill, which I will talk about later, and the adorable bottle stopper is a chef from the event logo.  I have also included two cookbooks from my collection, one all about California wines, and the other called The International Cheese Recipe Book with great recipes from around the globe.  You will also find a menu from the California Grill cheese board selection available at the restaurant, and the booklet from our wine and cheese seminar about artisanal cheeses. 
If you want to enter this give-away, send your name and email address to [email protected] by midnight Friday, October 8th.  I will email you if your name is drawn. 
Tune in tomorrow for the Day One report of the festival.  I have so much to tell you about each exciting day!