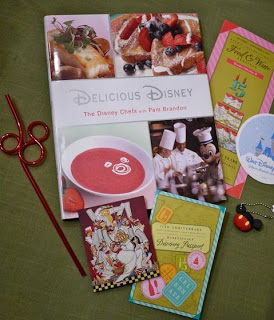 I don't even know where to start on this unbelievable festival!  Nobody does it better than Disney – that's for certain.  But first things first:  Look at the prize package one of you lucky readers will win! 
Delicious Disney by the amazing and delightful Pam Brandon will whisk you to the magic of Disney in your own kitchen.  Pam graciously gave me this cookbook at the festival just for one of you to win.  The cookbook features delicious and creative recipes from Walt Disney World Resort, Disneyland Park, Disney Cruise Line, and Disney Vacation Club.  Every easy-to-follow recipe includes a beautiful photo for recipes such as Disney classics, fancy dishes, fresh and healthy, casual, international cuisine, desserts, kid-friendly dishes, and more!   In addition to the cookbook, you will also receive a kitchen magnet with the darling festival chef logo, a Mickey Mouse key chain and special straw, along with information packets of the festival and what was served at each tasting station. 
To enter this random drawing give-away, send your name and email address by midnight Friday, October 8th, to [email protected] and I will email you if your name is drawn.  I would also love it if you would leave a comment about a favorite Disney memory or why you love Disney. 
Come back tomorrow for another great give-away of goodies from the festival.  The rest of the week I will give you a day-by-day report of all the festival happenings and why Disney truly is magic!
Also, congratulations to Rona S., from Oklahoma for winning last week's give-away of the soup and slow cooker cookbooks.
And a big thank you to all of you who voted and continue to vote daily for my Betty Crocker Cookie Contest entry, Salty Caramel Peanut Brittle Bars.  I really appreciate it!