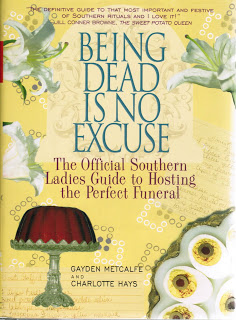 Doesn't sound like a cookbook, does it?  That's what I thought when my friend Roxanne mailed it to me.  Actually, it's part recipes, part stories, and highly entertaining.  According to the authors, after a solemn funeral service and the finality of the grave, the people of the Mississippi Delta look forward to feeding the bereaved at the home reception.  The reception is one of three times a Southerner gets out all the good china and silver; the other two are christenings and weddings.  They claim that polishing silver is the Southern lady's version of grief therapy.
While wedding receptions have caterers, funeral food comes from just about everybody you've ever known.  There is even a culinary competition between the Methodist ladies and the Episcopal ladies about who will bring what, and how it's prepared.  Episcopalians are considered snooty because they spurn cake mixes and canned goods, while the Methodist ladies make great dishes with the contents of cans and boxes.  They say if a survey were to be done of the winners of the Pillsbury Bake-Offs, ten to one the majority would be Methodists.  "You can always tell when a Methodist dies," says one Episcopalian, "because there are a lot of casseroles."  Because of this reliance on canned goods, it's probably safe to say the sodium content of Methodist funeral cuisine is high.  I found this chapter of the book very amusing because of something my great-aunt Margery from Iowa said.  Aunt Margery taught me a lot about cooking and gardening.  One time while I was visiting her, I was perusing through her cookbooks and recipe box.  In the poultry section of her box, I came across two cards – one for "Methodist Chicken," and one for "Presbyterian Chicken."  The recipes looked very similar, so I asked her what the difference was between the two.  Dear, sweet Aunt Margery leaned over and said very seriously, "The Methodists are better cooks, and our version tastes better."  I  proceeded to only write down the Methodist chicken recipe.
Delta funeral cooking is two-tiered.  There is the haute funeral food, which includes aspics (especially tomato), homemade mayonnaise, and dainty (never, ever large) homemade rolls.  The second tier is dishes that are Campbell Soup-based.  There's that Methodist cooking again, with the emphasis being on Cream of Mushroom Soup.  Food is grief therapy in the Delta, and the casseroles apparently give the energy to do whatever must be done after a funeral.  Many Delta cooks keep their pantries stocked with canned goods such as the soup, which means they are always prepared for funeral-appropriate dishes.  The freezer and the canned-stocked pantry are to Southern funeral food what the whisk and mold were to Brillat-Savarin, the great French gastronomist, who once said, "Tell me what you eat, and I will tell you what you are."  I doubt anyone would ever reply, "a green bean casserole with Campbell's soup and onion rings from a can." 
I remember my friend Roxanne telling me how every Southern cook has her own version of pimiento cheese, aka "Southern Pate," also known as "the paste that holds the South together."  The book has recipes for beer pimiento cheese, creamy, sweet and fluffy, savory, and hot pimiento with bacon.  My guess would be all versions would show up at a funeral reception.  Crabmeat dishes using capers are also very popular.  But not just any capers.  We are reminded not to use the big chunky ones, but to use instead "nice lady" capers which are small and delicate.  "Nice lady" is an adjective used in the Delta, meaning some things are nice lady and some things aren't nice lady.   For instance, nice lady is cutting the crusts off the bread before making sandwiches, and using only chicken breast meat to make chicken salad.  It left me wondering, what does the "bad lady" make?
Delta people have a strong sense of community, and you won't be forgotten just because you up and died.  In fact, they may even like you better and visit you more often!  Graves are sacred and are always decorated with flowers on every holiday from Christmas to Groundhog Day.  They are sad at funerals, but there is no such thing as a Delta funeral without a humorous moment.   One time, a woman died who was known as an intellectual, and her Presbyterian minister was unfortunately out of town when she died.  The family found a minister who had never met the deceased.  They gathered to tell this minister about her love of art and literature.  The woman's sisters requested the minister read some poetry, meaning Shakespeare or Keats.  Instead, the visiting minister chose "Keep-a-Goin." ("Taint no use to sit and whine 'cause the fish ain't on your line; Bait your hook 'an keep on tryin', keep a-goin.")  The bereaved sisters were doubled over with laughter.  If you can't find something to laugh about, they said, you will end up crying.  And being dead is no excuse.