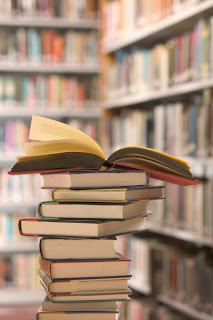 It never fails.  Anytime I enter a book store or library, my heart skips a little beat and I feel an excitement in my stomach because I know I will find something to read or buy.  As far back as grade school, I loved the crackly sound of opening the new books for class.  It was also the excitement of thinking about what new idea or fact I would learn.  Book lovers of all kinds will identify with these feelings.  And despite what it may seem, just because I write a cookbook blog does not mean I don't love or read other books.  Cookbook collecting, cooking, and developing recipes are my hobby, and it's a hobby I love, but books and reading are a part of my everyday life.
One of my favorite columnists in the Chicago Tribune is Pulitzer prize-winning writer, Mary Schmich.  Her column today is titled "Discovering "Good" Books a Personal  Adventure."  She asked her readers to name a book that shaped them as a person, as a reader.  This book should be something you would call a "book that mattered," or "a favorite piece of literature."  Ms. Schmich, along with a dozen other local well-known Chicago area residents, participated in "Chicago Reads," an event to celebrate the 125th anniversary of suburban Highland Park Library.  When this distinguished panel spoke of their favorite books, one would expect the classics like Shakespeare, Mark Twain, J.D. Salinger, Harper Lee, and many others , but as for what changed their lives turned out to be what first started them as readers.  Mary Schmich said for her it was a Nancy Drew book she read at age seven, "The Clue in the Crumbling Wall," because it turned her into "a reading girl."  She described how she remembers every detail of the day she discovered  Nancy Drew – how it was a hot summer Georgia day, the bookstore was cool and dim, and she was fascinated by the row of yellow spines of the books about Nancy Drew, the girl detective who could solve any mystery.  I can certainly identify with that, because my first favorite book was also a Nancy Drew, "The Password to Larkspur Lane."  I still have the first publication, which actually belonged to my mother, another Nancy Drew aficionado.
I gradually progressed to my lifetime favorites of Charles Dickens, the Bronte sisters (Wuthering Heights), Shakespeare sonnets, T.S. Eliot, and William Wordsworth, and even Mother Goose.   I also progressed from my first cookbook "for boys and girls" from Betty Crocker, and my mother's red checkered Better Homes and Gardens, to Mastering the Art of French Cooking,  but the love of books all started with Nancy Drew. 
Now I need to go read my latest find, "Dearie," a biography of Julia Child, which I bought at a library program yesterday, and which will be a blog soon.  But I am also reading Stephen King's 11/22/63.  So many books, so little time, but also, so many recipes, so little time!  And what an adventure it is.