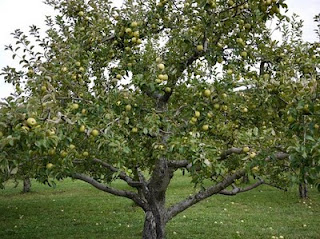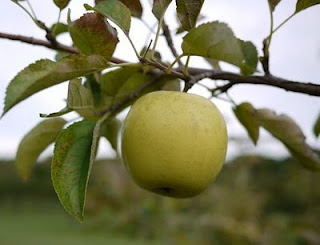 It's been a tough year all over the country with the high heat, but there are still some orchards where the apples are available for picking.  Since the weather has been so extreme, harvest time has varied.  Search the internet to find an orchard near you and see what they have available at the moment, or find some at local Farmer's Markets.  I love making apple butter that is heavy on the cinnamon.  The house smells heavenly!  My husband loves it on English muffins.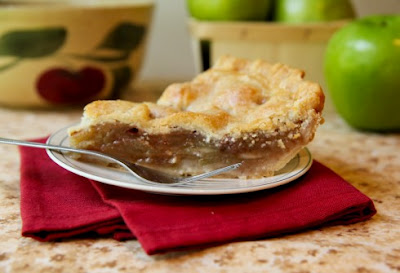 Even more than apple butter, my family loves my apple pie.  I have been using the same recipe for decades, and if I tried a new recipe, they would revolt!  I always use Granny Smith apples.  It's a simple pie recipe, nothing exotic or different, just a good old-fashioned apple pie.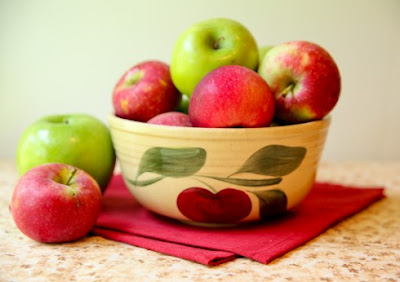 After picking apples, I always keep a bowl of them in my favorite antique bowl.
Whenever I don't have time to make a pie, I find an apple crisp is a good replacement.  I have had this recipe for so long, I can't even remember where I originally found it, but it was at least twenty years ago.  Serve it warm with a big scoop of vanilla ice cream.  It's rich, buttery, and a complete comfort food for fall.
Autumn Apple Crisp 
Heat oven to 350 degrees.  Butter a baking dish, about a 2-1/2 quart size.  Stir together 1 cup of granulated sugar and 1 teaspoon cinnamon.  In the prepared pan, layer peeled, sliced apples (your favorite variety) with the cinnamon-sugar mixture, starting and ending with the apples, filling the dish about 2/3 full.  In another bowl, mix together 1/2 cup brown sugar, 1/2 cup oatmeal, 1/2 cup all purpose flour, and 1/2 cup butter that is cut up into small bits.  I use my hands to combine everything until crumbly, but you can use a fork or pastry blender if you like.  Sprinkle the mixture evenly over the apples.  Bake about 1 hour, or until it is bubbly and browned.  Let it sit for 5-10 minutes before serving, or serve it at room temperature.  Either way, add a dollop of whipped cream or a scoop of vanilla ice cream.