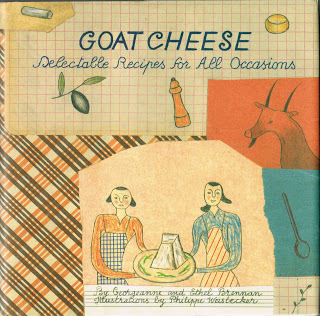 The first goat cheese I ever tasted was from Napa Valley-based cheese maker Laura Chenel back in the '70s.  It was love at first bite.  Back then, goat cheese was not available at almost every grocery store as it is now.  Since then I have learned that there are categories of goat cheese such as soft-fresh, semisoft, surface-ripened, and hard-aged.  The soft-fresh is anywhere from a few days to up to two weeks old, with a spreadable and somewhat creamy texture, although not quite as smooth as cream cheese. The surface can be plain or covered in herbs, and sold as logs, small tubs, pyramids, cylinders, or disks. The semisoft are fresh but not spreadable.  These tend to be dense and cuttable and have a mild but not bland flavor.  The surface-ripened are typically defined by a velvety exterior of bloom that is usually white and wrinkled.  They should be served at room temperature so that the textures soften and their full flavor is allowed to come forth.  Sometimes the surface-ripened are preserved by storing in olive oil or wrapped in grape or chestnut leaves to age.  The hard-aged are strong and pungent, and dry and dense, being both firm and cuttable.  There are as many kinds of goat cheese as there are ways to serve it.  Goat cheeses are extremely versatile in cooking, especially the soft-fresh types which mix well with other ingredients.  Surface-ripened tend to be less flexible in cooking.  Because goats' milk is lower in fat than cows' milk, it produces cheeses that are lighter in texture.  As a result, when cooking with goat cheese, the finished dishes will not have a heavy oiliness that is associated with many of the cows' milk cheese.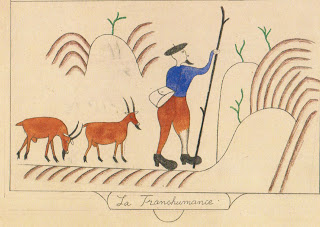 The cookbook has a variety of ways to serve and cook each of the categories of goats' cheese from simple to elegant.  Topping a pizza with goat cheese is very California-inspired.  There is a great pizza in the book with a homemade crust topped with tomatoes, bay scallops,  fresh basil, and a soft-fresh goat cheese;  and a buttery-crust galette with wild mushrooms and a goats' milk feta.   Goat cheese is wonderful on salads with fruits such as pears.  A soft-fresh goat cheese is heavenly mixed with creme fraiche and served with fruit preserves such as plum. 
It is said that a goat cheese made in the old Roman province of Provence was so rich and strong, and so loved by the unsuspecting Emperor Antononius Pius, that he overindulged and subsequently died from his gluttony.  Don't go that far, but there are some pretty great recipes to try in this cookbook.