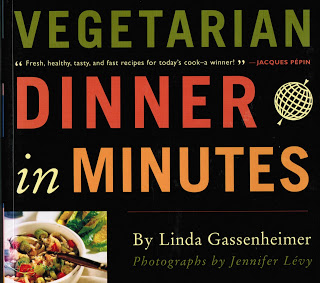 If you have had your fill of Easter ham, lamb, or other meat, maybe it's time for a meatless Monday.  Every time I enter a Whole Foods store and see the breath-taking display of produce,  I am ready for a vegetarian dinner.  Local Farmer's Markets are beginning to open with spring fruits and vegetables, like asparagus, mushrooms, and peas.  One market near my home just opened last weekend, and it was like one-stop shopping.  Not only seasonal produce, but fresh baked breads, organic eggs, olive oils, cheeses, and homemade jams. 
Award-winning cookbook author Linda Gassenheimer inspires us with her offerings of healthful meatless dinners without spending hours in the kitchen or use of ingredients that are high in fat and calories.  Her recipes are inspired by flavors from around the world like mushroom risotto, Creole rice and red beans, panzanella salad, corn salsa, or a frittata primavera.  There are 75 delicious vegetarian dishes in the cookbook, each with a shopping list of needed ingredients, what you should keep on hand in your pantry for fast meals, and helpful hints for vegetarian cooking.
 I have a favorite meatless meal.  It's a savory pie with a cheese crust and a filling of potatoes, mushrooms, and cheese.  I could eat this every week – and I think I will tonight for meatless Monday.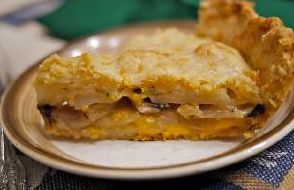 Potato, Cheese, and Mushroom Pie
Cheese Crust:
1-1/2 cups all-purpose flour
1 cup grated sharp cheddar cheese
1/2 teaspoon salt
1/4 teaspoon cayenne pepper
6 Tablespoons cold unsalted butter, cut into small bits
2 Tablespoons solid vegetable shortening
2 Tablespoons ice water
Potato Mushroom Filling:
3 medium potatoes, peeled and sliced thin
1 cup diced sharp cheddar cheese
1/4 cup all-purpose flour
1/4 cup minced fresh parsley
1-1/2 teaspoons salt
1/4 teaspoon cayenne pepper
4 Tablespoons butter, divided
1/4 pound mushrooms, sliced thin
Directions:
For Crust: Combine flour, grated cheese, salt, and cayenne pepper in a large bowl; toss to blend ingredients. Using a pastry blender or two knives, cut butter bits and shortening into flour mixture until crumbly. Add the ice water and toss with a fork until the water is incorporated. Form dough into a ball and wrap in plastic wrap; chill for 1/2 hour. Roll out half the dough into a 10-inch round on a lightly floured surface; fit dough into a 9-inch pie tin, leaving a 1/2-inch overhang. Prick the bottom of the shell with a fork and chill while preparing filling. For Filling: In a large bowl, combine the potatoes, diced cheese, flour, parsley, salt, and cayenne pepper. Toss until the potatoes and cheese are lightly coated with the flour; set aside. In a skillet, melt 2 Tablespoons of the butter. Saute the mushrooms for 5 minutes; remove from heat and set aside. Heat oven to 425 degrees. Remove pie shell from refrigerator and spoon half of the potato mixture in the bottom of the shell. Top with mushroom mixture, then remaining potato mixture. Dot with remaining 2 Tablespoons butter. Roll out the remaining crust on a lightly floured surface. Place crust on top of pie. Fold top edges under bottom crust edges pinching together; flute edges. Using a sharp knife, cut several small air vents in center of crust. Bake pie for 15 minutes. Reduce heat to 350 degrees and bake for 25 minutes or until pie is deep golden brown. Let pie cool for 5-10 minutes before cutting into slices. Serves 8.