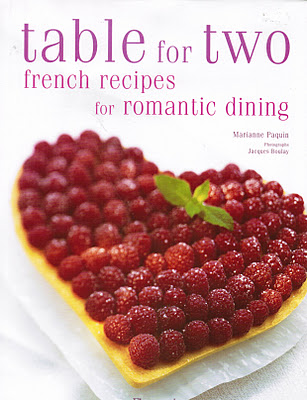 This lovely cookbook was originally published as "La Cuisine des Amoureux," and translated into English.  Thankfully, the ingredients were converted to cups and tablespoons.  There are over sixty recipes which are easy to prepare and guaranteed to seduce your special Valentine.  Not surprising – it is a French cookbook after all.  And doesn't "La Cuisine des Amoureux" sound more enticing than "Table for Two?"
Whatever your idea of a romantic dinner might be, the recipes will indulge your tastebuds. You can enjoy a romantic picnic for two with tuna tartare, tiny pastry tarts, and tomatoes stuffed with goat cheese and herbs.  Dinner by candlelight could include oysters and fresh herbs in a filo pastry, a foie gras terrine with asparagus and truffles, scallops with ginger and lime, and a chocolate heart with raspberries.  In the cold of winter cuddle up near a crackling fire and enjoy chicken breasts with chanterelles and wild rice, baked apples in spiced milk, and a coffee-cognac cocktail with cardamom and cinnamon.  You get the picture – pure romance and indulgence.
And what are you and your Valentine doing tonight?