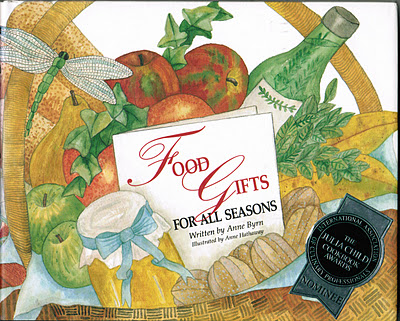 No one feels more special than being presented with a homemade gift, especially one from the kitchen.  When we give the gift of food like homemade jams, breads, candy, or cookies, the recipient knows it is from the heart and means more than any other gift.  A gift of food is a gift of yourself.  It is an expression of friendship and love, and even renews our faith in this crazy, fast-paced world that someone took the time to make something just for you. Anyone can pick up a bakery item, but not everyone can make peach jam.  Food gifts symbolically connect as if we are inviting someone to sit at our table. Your personality and creativity shine through gifts of food.
This book was nominated for a Julia Child cookbook award by the International Association of Culinary Professionals.  Author Anne Byrn organized her book by season, with gift-giving suggestions and presentation tips for every occasion.  Each section opens with an introduction to the season.  In winter, many fresh citrus fruits play an important part of items to make for gifts, such as grapefruit, oranges, persimmons, tangelos, and kumquats.  You can make gifts of orange marmalade, orange scones, or persimmon cake with walnuts and raisins.
Do something special for those deserving people in your life.  They will forget the tie or the bottle of perfume.  But homemade concord grape butter?  Now that they will never forget.  I guarantee.