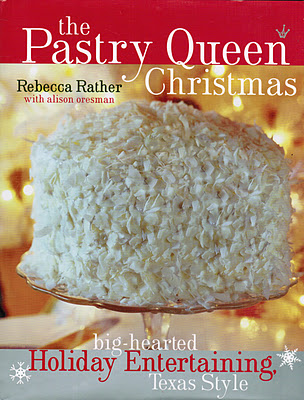 Deep in the heart of a Texas Christmas, author Rebecca Rather, AKA "The Pastry Queen,"  kicks into high gear during the holiday season meeting the Texas-sized entertaining needs of the locals.  Her bakery, the "Rather Sweet Bakery and Cafe," caters to many of the parties in her hometown of Fredericksburg in the Hill Country.  The season kicks off with its annual Christmas parade, where you might observe such events as the "Santa Run," when participants run down Main Street in their Santa costumes and race for charity. 
The book is packed with a variety of recipes created to celebrate party themes such as a Ranch Barn Brunch, Holiday Open House, Christmas Eve, Christmas Day, and New Year's Eve.  There are show-off dessert recipes such as a chocolate cookie-crusted eggnog cheesecake; sticky toffee pudding with a brandy butterscotch sauce, and a warm pear and ginger upsidedown cake with amaretto whipped cream.  But since this is Texas-style, you will also find cast iron skillet potatoes, Mexican ranch chilaquiles, spice-rubbed roast pork,  green chile and cheddar baking powder biscuits, and a mustard-baked ham from the author's beloved grandmother.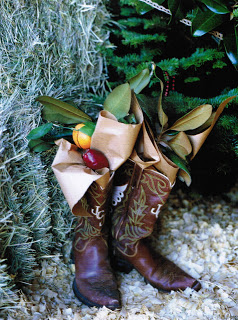 Now here's a pair of boots not seen much where I live.  I don't think they would hold up very well in Chicago winters.   However, I will try some of the wonderful recipes since they will probably be a Texas-sized success.