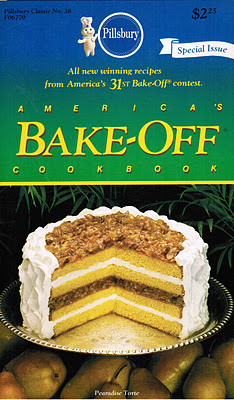 Midwesterners topped this 31st Bake-Off in 1984.  All of the top money winners and several of the runners-up temporarily took over the Sheraton Harbor Island Hotel in San Diego.  The grand prize winner and mother of twins, was Susan Porubcan of Whitewater, Wisconsin.  Susan started entering the Bake-Off while a high school student.  Her mother had entered when Susan was a little girl, and other friends of the family had entered, too.  Speaking of her $40,000 win, Susan said, "The closest I've ever been to that kind of money is walking past a bank."  She added, "We immediately used it to pay off the mortgage on our house."  
After the Bake-Off, the distillers of Jim Beam bourbon brought her to their executive offices in Chicago to honor her because her winning "Country Apple Coffee Cake" calls for 1-1/2 teaspoons of Jim Beam, "to add a little pizzazz," explains Susan.  "The alcohol burns off, but the bourbon flavor brings out the taste of the apples and the cinnamon."  Susan's coffee cake is made with refrigerated biscuits, layered with chopped apples, and topped with brown sugar, cinnamon, and that dash of bourbon whiskey before being glazed.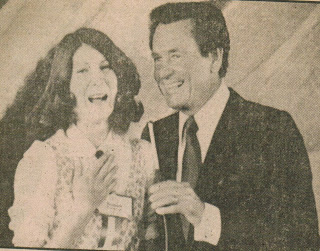 The winning moment with host Bob Barker.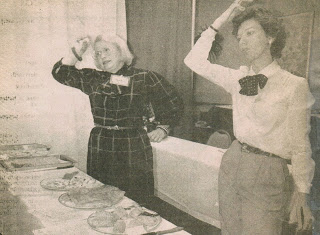 I found this amusing photo of two of the Bake-Off judges.  Do you think they are pondering which recipe to choose, or are they scratching their heads from being allergic to an ingredient?  Or maybe they just have headaches from eating too much good food.  Hey, it's a tough job, but someone has to do it…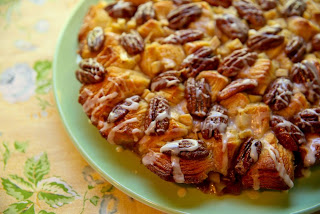 Susan's beautiful winning coffee cake.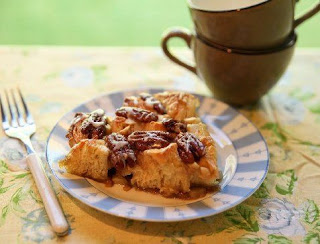 Thirty-two states were represented at the Bake-Off, with the group including nine men, two sets of sisters, and the first ever father-daughter pair, who just happen to my good friend Shirley DeSantis's husband, Alex, and daughter, Miranda.  Being the first of this unusual combination,  Alex and Miranda were whisked to interview after interview.  Miranda was a freshman in college at the time and had just finished her exams before the Bake-Off, which explains why she skipped one of the sightseeing events just to sleep and sunbathe. However, it turns out that Miranda was selected again for the Bake-Off later, and at the same hotel, so eventually she would make it to the Sea World trip.  Watch for Miranda again in Bake-Off # 33 in a couple weeks.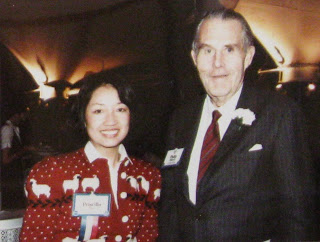 Another good friend of mine to compete for her second time was Priscilla Yee, seen here with Phillip Pillsbury.  Priscilla sent me all kinds of photos from the contest, and also offered her experience cooking at the Bake-off and meeting new people.  Here are Priscilla's words of this 31st Bake-Off:
"The Bake-Off had events and meals inspired by the San Diego location, with my sister Judy attending as my guest.  Several of the meals featured fresh ingredients available in California including mesquite-grilled salmon and chicken, steamed artichokes, pistachio nuts, almonds, and apricots.  The first night, dinner at the hotel had "an elegant black and white theme dinner with unusual decor and live music, the most formal meal occasion."  Men were asked to wear coats and ties, and women dressy outfits.  We sat at a table with people who turned out to be the Maryland group who hold mini bake-off's for 45 friends to sample their Bake-Off entries.  Mark Schiffman and Sandy Daston made it as finalists that year. I listened in awe as they explained how they made scoring sheets and required every guest to taste and score every recipe on a scale of 1 to 10 and make suggestions on how the recipes could be improved."
"The next day was orientation and interviews, then sightseeing, shows, and a buffet barbecue at Sea World.  The park was closed to the public for the evening so the 110 finalists and their guests had the run of the place without long lines.  Bob Barker made an appearance, and graciously posed for photos with the finalists.  Cooking the next day started with the traditional "Grand March" led by Phillip Pillsbury.  It was a pleasure to meet the man who had started the Bake-Off over thirty years before.  My chicken pies were easy, so I had time to visit with the group from Maryland and lots of other finalists.  I was struck by how the people we met had such diverse lifestyles and backgrounds (including physicians, teachers, farmers, small business owners), but what we all had in common was a love of cooking.  Dinner was at a nautical-themed restaurant, Tom Ham's Lighthouse."
"Winners were announced the next day, and were dominated by the desserts.  The grand prize coffee cake was creative and delicious, and I have made it many times.  I left San Diego without prize money, but my sister and I had a blast and came home with priceless memories and even some friendships that have lasted until today."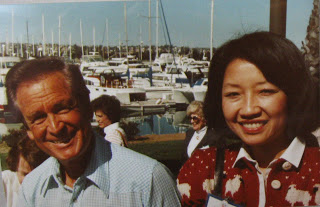 Priscilla with host Bob Barker.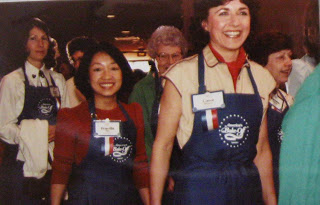 The "Grand March" into the cooking area.  Right behind Priscilla with the white sweater draped on her arm is grand prize winner, Susan Porubcan.  Little did she know her life was about to change forever!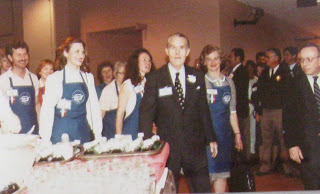 Two other friends in the Grand March – Larry Elder on the far left, who goes on to win $2,000; and Linda Rohr who is right in front of Larry.  Linda and her husband Rick are both fabulous cooks who have won numerous competitions.
Here is Priscilla with the "Maryland group!"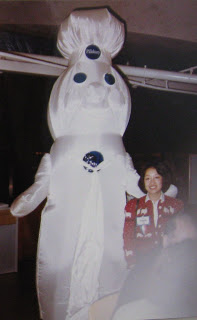 Early Doughboy costume.  Not only was he extremely tall, I think this skinny Doughboy needed  to eat a few crescent rolls.  I prefer the little roly poly guy who giggles.
I distinctly remember watching this Bake-Off on television.  It got me so excited, that I decided to enter the next contest.  Come back next week to read about Bake-Off # 32 and see if I made it!
Here are the other winning recipes from this Bake-Off:
$15,000 winners:
-Quick Apple Pancake by Eileen Thorston of Springfield, Minnesota
-Austrian Apple Oven Pancake by Christine Bell of Golden Valley, Minnesota
-Raspberry Marzipan Tart by Kato Perlman of Madison, Wisconsin
-Italian Crescent Crostata by Ann Mehl of Minneapolis, Minnesota
(Notice all the top winners including the Grand Prize winner, were from either Wisconsin or Minnesota!)
$2,000 winners:
-No-Knead German Rye Bread by Thomas Albrecht of Brooklyn Park, Minnesota
-Honey-Glazed Banana Muffins by Catherine Apgar of Hastings, New York
-Banana Bran Quick Bread by Mary Branagan of Bemidji, Minnesota
-Mexican Corn Muffins by Suzanne Velzy of Lawtons, New York
-Maple Cream Coconut Coffee Cake by Marlys Ward of Mankato, Minnesota
-Quick-Topped Vegetable Chicken Casserole by Bernice Malinowski of Custer, Wisconsin
-Ham and Chicken Biscuit Pockets by Carol Gross of Fort Morgan, Colorado
-Hearty Crescent Sausage Sandwiches by Jeanie McWhorter of Yakima, Washington
-Crescent Easy Potato Knishes by Sonia Ganley of San Jose, California
-Spinach Cream Biscuit Foldovers by Gloria Jahns of Twin Lakes, Wisconsin
-Crescent Cordon Bleu by Larry Elder of Spartanburg, South Carolina
-Peanut Butter 'N Fudge Brownies by Jeannie Hobel of San Diego, California
-Choffee Chiffon Cake by Elizabeth Penney of La Mesa, California
To read more about the Pillsbury Bake-Off go to http://www.bakeoff.com/
To find the recipe for the grand prize-winning "Country Apple Coffee Cake" go to: http://su.pr/2X4SDG
Photos of the "Country Apple Coffee Cake" are by my daughter, Kristina Vanni. Visit her blog at: http://www.betterrecipes.com/blogs/daily-dish  
To read all my previous Bake-Off blogs:
Bake-Off #1: http://su.pr/7gmylO
Bake-Off #2: http://su.pr/2zgjZn
Bake-Off #3: http://su.pr/7VZzZS
Bake-Off #4: http://su.pr/292acQ
Bake-Off #5: http://su.pr/2yOSvP
Bake-Off #6: http://su.pr/28VYBh
Bake-Off #7: http://su.pr/1hk3nb
Bake-Off #8: http://su.pr/22JMGd
Bake-Off #9: http://su.pr/2KkA2E
Bake-Off #10: http://su.pr/8awD1k
Bake-Off #11: http://su.pr/1CmPvD
Bake-Off #12: http://su.pr/3ogo5M
Bake-Off #13: http://su.pr/1a4HYQ
Bake-Off #14: http://su.pr/3tgiV5
Bake-Off #15: http://su.pr/7tQXBu
Bake-Off #16: http://su.pr/9nPW7c
Bake-Off #17: http://su.pr/9WIaqm
Bake-Off #18: http://su.pr/6MMS45
Bake-Off #19: http://su.pr/2A7GXI
Bake-Off #20: http://su.pr/2MwjlD
Bake-Off #21: http://su.pr/1nIgIJ
Bake-Off #22: http://su.pr/1nkUgJ
Bake-Off #23 http://su.pr/20jQDK
Bake-Off #24 http://su.pr/AMfFSj
Bake-Off #25 http://su.pr/4btzLZ
Bake-Off #26 http://su.pr/2sJrvp
Bake-Off #27 http://su.pr/9cG4B1
Bake-Off #28 http://su.pr/24CMm0
Bake-Off #29 http://su.pr/8th5eg
Bake-Off #30 http://su.pr/AUUGkZ